Aside from the visual appeal that characterizes all of Oteiza's sculptures, his artistic activities are extremely interesting in the sense of constituting a lengthy and sustained process of research. During this process, the artist started from the traditional form of sculpture—in other words, the human figure—which he simplified and reduced to primary, schematic forms, studying the pre-historic art of the Basque Country in order to develop a repertoire of forms that are geometrical in nature and share a constructivist inspiration.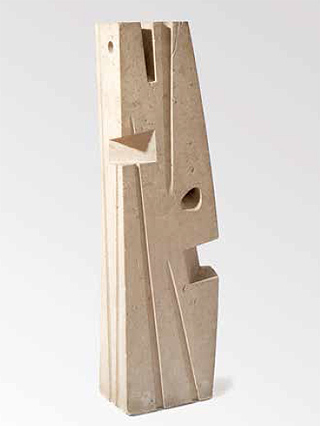 Sólido abierto con módulo de luz [Open Solid with Light Module], 1957
Oteiza's extremely coherent oeuvre reveals what he himself termed as an "experimental intent" that led him to investigate the characteristics of real space. In order to do so he began to open up the inside of his forms, making channels and perforations in blocks as he reflected on the concept of the hollow. The result was an expressivity devoid of specific meaning that was manifested through a formal repertoire that was unique in the 1950s.
The limestone monolith Sólido abierto con modulo de luz is an example of such work. Carved directly into the stone, it can be interpreted as an abstract simplification of a standing human figure—the transformed figure is now a dynamic prism with various faces resulting from the use of irregular geometry. Oteiza has carved channels and perforated the surfaces of these faces, adding an expressive content to the volumetric form. Revealing more interest in space than in volume, the figure's verticality, the smooth finish of its different faces and its crisp edges give shape to a work with an expressivity that does not depend on the qualities of the material or the weight of its mass.
Javier Maderuelo
Este texto sólo puede reproducirse citando su procedencia:
Catálogo del Museu Fundación Juan March, Palma de Mallorca.
Among the Spanish artists discovered by the European and North American public in the 1950s, Oteiza was by far the most experienced and the one who had struggled for a longer period of time in the modern art scene. Prior to the Spanish Civil War, he had been a prominent member of the frail Basque avant-garde, and between 1935 and 1948 he had embarked on a journey throughout Latin America.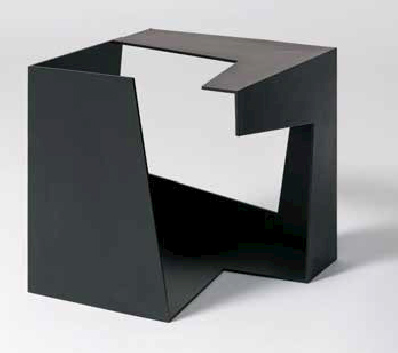 "Caja vacía", [Empty Box] c. 1974-1979
Upon his return, Oteiza wrote Interpretación estética de la estatuaria megalítica americana [Aesthetic Interpretation of American Megalithic Statuary, 1952], a book that marked the beginning of a new period in his career, during which he began to reflect on Basque culture. Soon thereafter he was involved in an almost theological debate—the first of many controversies surrounding his work—concerning the Frieze of the Apostles he created for the basilica of Aránzazu (Guipúzcoa). During the 1950s he was a major influence for the Parpalló and Equipo 57 groups, in Valencia and Córdoba. Both his steles and boxes from this period contributed to an artistic tradition that started with Russian constructivism and led to minimal art.
In 1959, two years after winning the International Prize for Sculpture at the São Paulo Art Biennial, Oteiza announced his retirement from the art scene. Fortunately, he did not withdraw entirely, as in 1972 he began working on Laboratorio de tizas (Chalk Laboratory) and resumed work in some unfinished pieces.
The most comprehensive retrospective of Oteiza's work held during his lifetime took place at La Caixa's venue in Madrid in 1988. Entitled Propósito experimental [Experimental Purpose], it was curated by Txomin Badiola, a Basque artist who was keen to renew interest in Oteiza, as well as in his 1963 book Quousque tandem…! Ensayo de interpretación del alma vasca [Quousque tandem…! Essay on the Interpretation of the Basque Soul]. Along with Susana Solano, Oteiza represented Spain at the 1988 Venice Biennale.
Caja vacía brings to mind Oteiza's Cajas metafísicas [Metaphysical Boxes, 1956–1957], one of the most important cycles of his oeuvre, in which he underlined the cube's empty interior space through the use of metallic planes.
This cycle includes pieces that pay homage to Diego Velázquez, Stéphane Mallarmé and Kazimir Malevich, all three of which Oteiza regarded as masters of empty space.
Juan Manuel Bonet
Este texto sólo puede reproducirse citando su procedencia:
Catálogo del Museu Fundación Juan March, Palma de Mallorca.