Palazuelo studied Architecture and Arts and Crafts in Oxford. In 1945 he took part in the exhibition La joven pintura madrileña [Young Madrid Painters], organized by Madrid's Buchholz gallery. Soon thereafter, his work developed towards abstraction, as witnessed by a drawing featured in the Homage to Paul Klee published by Clan three years later. By then Palazuelo had moved to Paris, where he lived for several years. During his French stage he became acquainted with Eduardo Chillida, with whom he exhibited at Galerie Maeght. He also took an interest in non-systematic geometry, read Gaston Bachelard and the gnostic writers, and studied tantric art.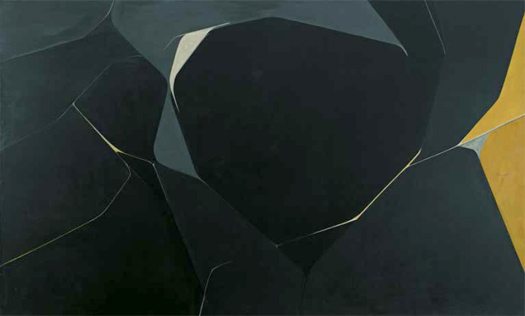 Noir Central [Central Black], 1963
Solitude is a term that must be mentioned when referring to Palazuelo. One of the most private figures in the Spanish art scene, he shied away from groups, trends and the art scene in general. In parallel to painting, Palazuelo produced a significant number of engravings, among which his linear drypoint etchings are particularly noteworthy. He also wrote concise poems. His sculptures, like his paintings, made use of a range of overlapping geometrical forms.
Noir central is among Palazuelo's masterpieces. The underlying geometrical properties of this composition are not traced with the precision of a drawing pen. On the contrary, the way in which the shapes interact and intersect brings to mind natural processes related to botany and geology, rather than those of Russian constructivism or Dutch neo-plasticism. The colors are not applied in a cold or systematic manner—behind the shades of black, white, blue and ocher we see other colors, along with a unique intensity and vibrancy.
Juan Manuel Bonet
Este texto sólo puede reproducirse citando su procedencia:
Catálogo del Museu Fundación Juan March, Palma de Mallorca.
Palazuelo and Basque sculptor Eduardo Chillida both studied Architecture in Madrid. They later met at the House of Spain in Paris' Cité Universitaire during 1948–1949. It was then that their styles developed towards abstraction, though Palazuelo initially opted for a more rigorous type of painting based on what could be termed "sensual geometry." This style was characterized by its use of motifs borrowed from nature and representations of mental spaces or musical harmonies, which gave his work a mysterious quality. Thus, Palazuelo painted large fields of flat, solid color. Even if these paintings were very simple in appearance, they responded to complex theories that were postulated and explained by the artist in his writings.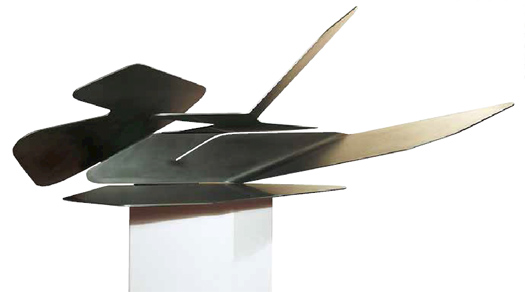 Rêve de vol [Soaring Dream], 1967-1977
At some point, Palazuelo's surfaces —outlined by thin and dull lines—began to expand outside the flat surface of the canvas and to stretch out into space, turning into sculptures. Rêve de vol is an example of this type of work—here, a flat sheet of stainless steel, adequately cut and bent, acquires spatial dimension and material nature. The planes not only gain physical volume but also take up the surrounding space, resembling the delicate wings of a bird as it prepares for flight. The meticulous rigor that is a feature of Palazuelo's painting is also present in his sculptural work, complementing the material quality and perfect finish that make his sculptures particularly interesting.
Javier Maderuelo
Este texto sólo puede reproducirse citando su procedencia:
Catálogo del Museu Fundación Juan March, Palma de Mallorca.