Rivera studied at Granada's School of Arts and Crafts and at the School of Fine Arts in Seville. He began his career painting folkloric themes in the line of Gabriel Morcillo, one of the representatives of this traditional genre in Granada. However, after settling in Madrid in 1951, he executed several mural paintings in the geometrical style that was much in vogue at the time.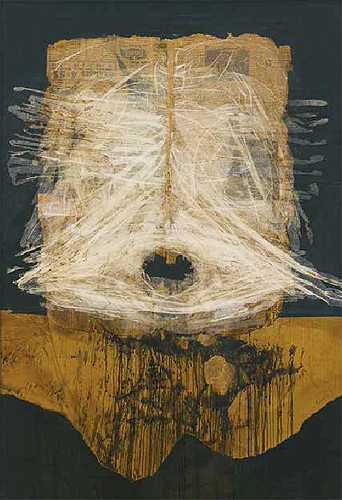 Anatomía para un espejo [Anatomy for a Mirror], 1972
His stay in Paris opened his eyes to new expressive possibilities and, soon after his return, he chose metal as the main material for his work. Rivera belonged to the circle of abstract artists that exhibited work at Madrid's Fernando Fe gallery and, in 1957, was amongst the founding members of the El Paso group.
Rivera's early metal works were angular and bare reliefs that resembled spider webs. Soon after he started experimenting with the moiré effect, caused when two metallic grids are overlaid. By painting these grids, Rivera was able to generate densely colored areas. Although his work often made reference to Spanish history and to important cultural figures, he was mainly interested in exploring his memories of Granada. Thus, Rivera's work reveals an intense sense of happiness inspired by his hometown, as suggested by some of his titles, which make reference to mirrors in the afternoon, Elizabethan mirrors, viewpoints, reservoirs, Manuel de Falla's music, Federico García Lorca's "duende," patios of the Alhambra, or the Generalife gardens.
Anatomía para un espejo is a monumental piece in which the subtle optical vibration and moiré patterns that characterized Rivera's oeuvre are complemented by a kind of architectural, vertebrate, highly organized structure that enhances the image by giving it an unusual and mysterious aura, similar to that of fantastic architecture or even to Giovanni Battista Piranesi's prisons.
Juan Manuel Bonet
Este texto sólo puede reproducirse citando su procedencia:
Catálogo del Museu Fundación Juan March, Palma de Mallorca.