In 1989, Caja Madrid organized a comprehensive retrospective of Rueda's work. In this exhibition it became evident that, though Rueda went through both figurative and abstract phases, his oeuvre is not marked by abrupt shifts in style or by the extreme breaks that characterize other modern artists. The sensitivity that can be appreciated in his melancholic urban landscapes of Madrid in the 1940s emerged repeatedly in his later work, including his quintessential near-abstract landscapes from the 1950s; the compositions in which he applied paint with a spatula; the gray paintings he completed in the 1960s; his subsequent red, blue and green monochromes; the spatialist reliefs in wood that followed soon after; his metallic reliefs and sculptures; the tables in the vein of Giorgio Morandi; or the collages made of wrinkled cellophane and torn envelopes. Due to this sensitive quality of his work, Rueda became one of the key figures that the so-called "new generation" attempted to revive in the mid-1960s, when Rueda was co-director of the Museo de Arte Abstracto Español in Cuenca.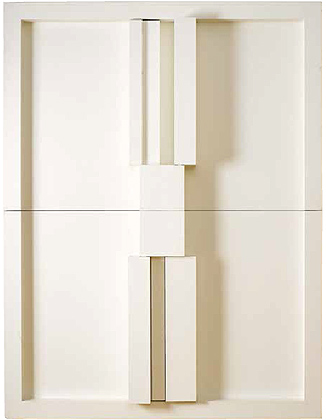 De levante a poniente [From East to West], 1974
Rueda used humble, ephemeral objects, including matchboxes and cigarette packs, as "modules." He also incorporated stretchers, frames and moldings in some of his works, and used envelopes torn into pieces in others. He entitled a geometrical piece, slightly less organized than his works tended to be, Homenaje al informalismo [Homage to Informalism, 1967]; whereas Elegancia social de la madera [Social Elegance of Wood, 1984] consists of a series of reliefs.
De levante a poniente, a white relief in wood, has an imposing presence. Here the association of form and volume is as important as the interplay of light and shadow, enhanced by the relief's monochrome color
Juan Manuel Bonet
Este texto sólo puede reproducirse citando su procedencia:
Catálogo del Museu Fundación Juan March, Palma de Mallorca.