At a time when the young Saura was isolated in his hometown and confined to his bed due to ill health, Ramón Gómez de la Serna's book Ismos [Isms, 1931] introduced him to modern art. His first incursions in the field of painting and poetry, such as the automatic text Programio (1951), were done in a surrealist manner. In 1953 Saura organized the group exhibition Arte Fantástico [Fantasy Art] at Madrid's Librería Clan. Following this show he moved to Paris, where he was briefly part of the surrealist group—however, he soon abandoned its orthodoxy, which he saw as tainted with nostalgia. His 1956 exhibition at Madrid's Museo de Arte Moderno was the first to display examples of action painting in the capital of Spain.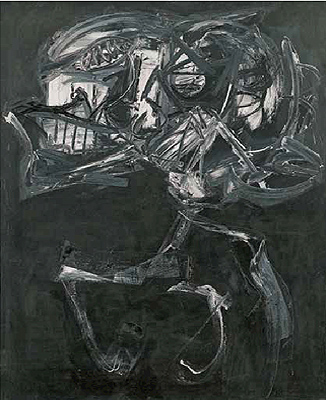 Dea, 1959
Two styles coexisted in Saura's work during this period: purely abstract compositions painted in an automatic, gestural manner and those inspired by reality, which would eventually be dominant in his work. Women were also an important part of his oeuvre: in the mid-1950s he painted his first Damas [Ladies], followed by his Retratos imaginarios [Imaginary Portraits] in 1958, and his Mujeres en el sillón [Women in the Armchair] in the 1960s. His multicolored Cocktail Parties, on the other hand, are brutally humorous. In the style of the Generation of '98, Saura also portrayed Spanish historical figures, with a special emphasis on Philip II, as can be seen in Sarcófago de Felipe II ([Sarcophagus for Phillip II], 1963, Museo de Arte Abstracto Español, Cuenca). He also illustrated Francisco de Quevedo's Dreams with etchings and Miguel de Cervantes' Don Quixote with drawings. He also pondered over Francisco de Goya's Drowning Dog and Diego Velázquez's Christ.
Following his association with the El Paso group, never again did he feel tempted to partake in collective activities. However, as his writings confirm, he continued to be keenly aware of the evolution of the artistic world. He wrote, he coordinated courses on obscenity in art and the connections between painters and writers, he published the booklet Contra el Guernica [Against the Guernica, 1982], and in 1996 he curated the exhibition Después de Goya: una mirada subjetiva [After Goya: A Subjective Look] in Zaragoza.
In pure Saura style, Dea is one of his most striking female Imaginary Portraits. The woman's face— monstrous, of grotesque proportions and with a horse-like jaw—is a pretext for action. The woman's body, which in future portraits adopts a more aggressive sexual appearance, is outlined here with just a few defining brushstrokes, and the color range, reduced to the contrasting black background and the brilliant white contours of the figure, brings to mind a flash of lighting during a storm.
Juan Manuel Bonet
Este texto sólo puede reproducirse citando su procedencia:
Catálogo del Museu Fundación Juan March, Palma de Mallorca.