Sempere was one of the first artists to study at Paris' Colegio de España after the Spanish Civil War, where he coincided with Eduardo Chillida and Pablo Palazuelo. Like them, Sempere opted during this period for an abstract mode with a focus on geometricallybased constructions, as well as for the artistic trends deriving from them, such as light pieces, op art and kinetic art. He can thus be located within the context of the Salon des Réalités Nouvelles and, more specifically, within that of artists such as Victor Vasarely.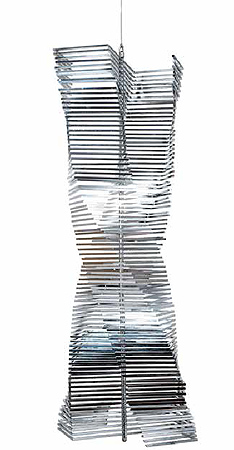 Columna [Column], 1974
While one trend of abstraction made use of the resources of gesturalism, turning to informalism and expressionism, at the opposite extreme was the tendency that looked for formal order through geometry, generating figures with rigid outlines, measured spaces and cool appearances. Although Sempere was interested in geometrical procedures, crisply defined straight lines and structural serialism, his works generally avoided the cold rigor and monotony that characterize normative abstraction. The present column is created from a single module that is repeatedly threaded onto a vertical axis. The module is a squaresectioned metal rod that forms a line that is broken orthogonally, reflecting a geometry with exact proportions. Although everything would seem to lead to a work of rigorous appearance and rigidly imposed order, surprisingly the modules turn freely around the vertical axis—when touched at the edges they change position and the column acquires a new appearance, potentially adopting infinite positions and allowing for an optical interplay resulting from the viewer's movement around the column.
Javier Maderuelo
Sempere studied Fine Arts in Valencia, where he became a pioneer of Spanish abstraction in the 1940s. The following decade he travelled to Paris, where he became acquainted with some of the survivors of the avant-garde and met artists of the emerging neo-constructivist movement. While there, Sempere participated in group exhibitions, wrote manifestos, built rudimentary light boxes and concluded a large and superb series of gouaches, regarded as one of the high points of his career.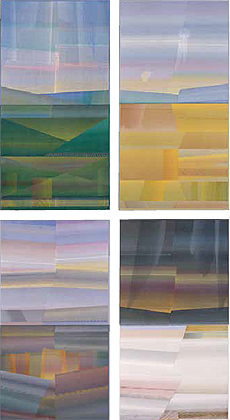 Las cuatro estaciones [The Four Seasons], 1980
In 1960, he settled permanently in Spain, beginning a period marked by the production of strict constructivist works that coexisted with poetic pieces suggesting a vibrant sense of reality.
Sempere excelled simultaneously in the fields of painting and sculpture. Several of his sculptures are mobiles, set in motion either by the wind—as Alexander Calder's—an engine or the viewer. He was also the author of an important body of prints, favoring the method of serigraphy, a technique which both he and his collaborator, Abel Martín, mastered. Within this field, El romance de cuando estuvo en Cuenca Don Luis de Góngora y Argote [The Romance of what Befell Don Luis de Góngora y Argote when in Cuenca, 1969] is among his most beautiful creations. The portfolio was edited by the Museo de Arte Abstracto Español in Cuenca, where Sempere, like other artists, owned a house./p>
Las cuatro estaciones is composed of four gripping pieces representing the seasons, a subject highly regarded by Sempere—the title of his first portfolio, edited by Juana Mordó in 1965, was also inspired by Vivaldi. A pattern of fine parallel lines traced with a drawing pen creates an illusion of quivering depth, radiance and translucence, conjuring up a poetic and scenic atmosphere. The secret of Sempere's alluring power may lie in the delicacy with which he shifts from one range of color to another. In the present work, he moves from the fresh tones of springtime to the cold hues of winter, showing along the way the splendor of summer and the ripeness of fall.
Juan Manuel Bonet
Este texto sólo puede reproducirse citando su procedencia:
Catálogo del Museu Fundación Juan March, Palma de Mallorca.