Initially influenced by the geometrical principles of constructivism, in the early 1980s Sevilla experimented with the development of flat structures formed by sequences of overlapping geometrical shapes. She then proceeded to "paint" with light, the physical agent that makes objects and forms visible to the human eye. The complex mechanism of vision is decoded by the brain, which interprets visual stimulus, determines the contours of objects and organizes space. Judging from her work, Sevilla is not interested so much in the external silhouettes of objects as in the radiant, evasive, ever-changing halo of light that radiates from them. Hence, the outline of the figures and motifs that make up her series of paintings are eliminated and reduced to quivering light. This is achieved through the intersection of parallel lines that can convey different dimensions by themselves, depending on the brightness of the light, an element that appears to transcend space and time in her works.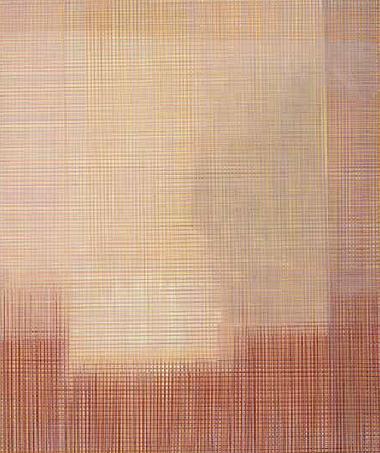 Mi fuente un agua le da sin impureza, clara y dulce (Serie La Alhambra)
[My Fountain a Water Gives that Is Free of Impurities, Clear and Sweet] La Alhambra series, 1985
Certain spaces can be recreated with light. In these scenes, light creates perspective by representing the distance between planes, as Diego Velázquez showed in his celebrated Las Meninas (1656). A more tangible example can be found at the Nasrid Palaces of the Alhambra. In both settings, perspective is determined by a series of radiant planes that converge. Inspired by these examples, Sevilla conceived two of her most interesting series of paintings.
Javier Maderuelo
Este texto sólo puede reproducirse citando su procedencia:
Catálogo del Museu Fundación Juan March, Palma de Mallorca.