Solano was one of the leading figures of Spanish sculpture in the 1980s, a period characterized by a newfound interest in the medium. She slowly gained international recognition owing to her outstanding ability to create solid, energetic volumes that define a translucent space and, in spite of their small size, possess a monumental quality about them.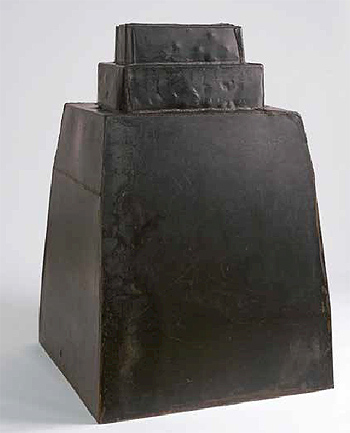 Colinas huecas número 7 [Hollow Hills Number 7], 1984
Solano's success stems from her iron sculptures, in particular from the compelling series entitled Colinas huecas. In making these pieces, she applied folding and soldering techniques to large sheets of iron. Although nowadays heavy machinery is employed in these techniques in order to obtain smooth finishes, Solano refused to work with machines and chose basic manual skills and traditional methods instead. As a result, her sculptures bear the marks of her own hands and the tools she uses. The outcome is a rough and crude appearance, as well as a distinctive expressive quality.
The theme of this series is also exceptional. The subject of hills —in other words, the depiction of a landscape—was a new and difficult topic for a medium of this nature. Due to the advent of new artistic media categorized under the term sculpture during the 1980s, certain artists felt obliged to reconsider the notion and essence of sculpture. Hence, works from this period present a rhetorical battle between space and emptiness, between solid and hollow materials and concave and convex forms. Solano solves these issues through the use of metallic shells that speak of her own understanding of landscape and link her to a line of sculpture of which her compatriot Julio González was a clear proponent.
Javier Maderuelo
Este texto sólo puede reproducirse citando su procedencia:
Catálogo del Museu Fundación Juan March, Palma de Mallorca.