Tàpies is regarded as one of the most prominent Spanish artists of the second half of the twentieth century. This reputation stems from numerous solo exhibitions organized by worldrenowned galleries, prestigious collections with holdings of his works, and multiple monographic studies published outside of Spain, and is sustained on the strength of a seemingly inconsequential subject matter that repeats itself throughout his work: the wall.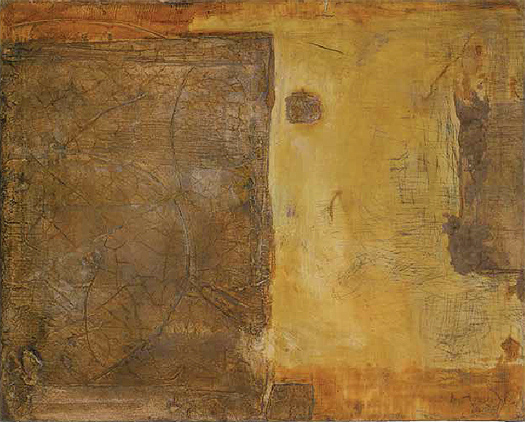 Color terrós sobre fons groguenc [Earth Color on Yellowish Background], 1954-1955
In the early 1950s—following in the footsteps of Jean Dubuffet—Tàpies began to envisage the pictorial surface as a wall on which to paint, incise, scribble, nail or paste material, as could be the case in a city wall. Nonetheless, his work also reveals a concern with reality similar to that of Alberto Giacometti. Tàpies no longer conceived paint as a thin layer that stains the canvas, but as a material crust of authentic matter, as real as the dirt on the surface of Color terrós sobre fons groguenc. Thus, his works are not planes that generate an illusion by means of figures or places. Instead, they are transformed into surfaces that allow the artist to trace signs or mount objects.
Dating from this period, Color terrós sobre fons groguenc conveys the exact subject of the title: a reddish yellow base—lustrous and smooth in parts —on which some earth-colored fragments stand out. These fragments are composed of materials previously mixed with paste and oil. The result produces a sense of textural richness, or even of reality, if you want.
Javier Maderuelo
Since its origins, the purpose of painting has been linked to the visual expression of myths and the representation of heroes. However, in the twentieth century painters sought to break away from these literary subjects in order to develop an independent visual language that explored the specific qualities of paint and its essential features, such as surfaces, masses of color, tonal values and texture.
Tàpies, who began his career under the influence of surrealism, soon understood this necessity and, in the early 1950s, began to inquire into the nature of pictorial elements, especially texture and color.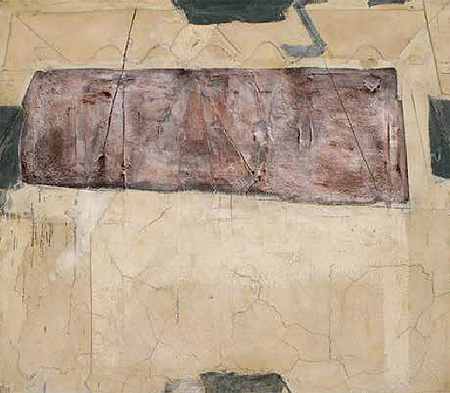 Blanc i rosa [White and Pink], 1964
Starting in 1910, European artists began to produce works that failed to portray recognizable figures or settings. Originally described as "abstract" artists, some of them rejected this term, which they considered to be too philosophical, or even pretentious. Hence, they defined their paintings as "concrete" or even as "realistic." Both these adjectives seem appropriate to describe the works of Tàpies on display at the Museu Fundación Juan March, and in particular to understand Blanc i rosa. This work can be described as concrete because there is nothing more to it than what meets the eye: a crumpled piece of cloth under a pink coat of paint affixed to a whitish canvas. On the other hand, its realism lies in the fact that Tàpies did not intend to depict anything beyond the elements he employed, in opposition to the approach to painting that has come to be known as "figurative."
Javier Maderuelo
Tàpies' first incursions in the field of abstract art took place between 1946 and 1948 and were among the first to be carried out in Spain. Leaving behind his academic training, he entered an uncharted territory that was very different from that of the environment that surrounded him. Cardboard, strings and newsprint crosses served as counterpoints to the pompous visual language in vogue at the time and were used by Tàpies to make a statement in favor of humble and insignificant objects.
Then came a time of dreams, mysteries, disquieting nights, moons and selfportraits. This was the time of the Dau al Set [Seven-Spotted Dice] periodical and of his decisive encounter with Joan Miró, during which the imagery in Tàpies' work had a surrealist character.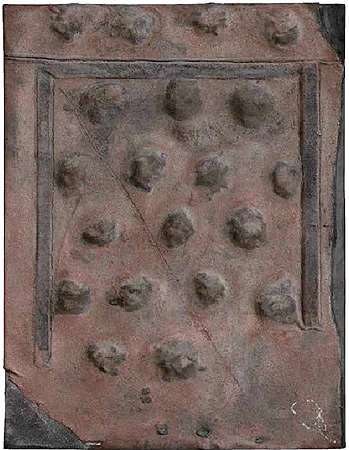 Pintura-collage rosada [Pink Collage-Painting], 1964
From 1953 onwards, Tàpies started building a new visual universe. To this end, he disposed of the more literary aspects that characterized his paintings during the Dau al Set years, settling permanently in a region of silence, of an austere, bare and startling abstraction where texture played a prominent role. To a certain extent, his collages from the 1940s prefigured some of the elements he would later develop during this period.
Although Tàpies' style hardly evolved since 1955, two changes can be pointed out: a shift towards figuration during the 1960s and a new contemplative approach to objects in the 1970s. During his later years, he also partially abandoned his characteristic earthlike materials in favor of transparent varnishes that he used as a support, as is the case of Celebració de la mel [Celebration of Honey, 1989] and other works from that year.
The Fundació Antoni Tàpies was inaugurated in Barcelona in 1990. One of its foundational purposes is the promotion of Asian culture, which plays a fundamental role in the understanding of Tàpies' creative process.
Though Pintura-collage rosada is a delicate work, it has a strong physical presence. More than in any other period in his life, Tàpies became interested in objects of everyday life during the 1960s and 1970s. He made use of this theme either by incorporating objects to the painting's texture or by suggesting their presence in figurative terms. The two main subjects found here are the medium, which appears to be a manufactured object altered by the passage of time, and color.
Juan Manuel Bonet
Out of fear of empty space, many artists have felt tempted to crowd the surface of their paintings with all sorts of signs, figures and objects, as was the case of many baroque artists in the past. Trying to demonstrate in each work the knowledge and skills acquired over years of experience can be very tempting, but it can also become an irritating and pretentious habit. One of the keys to understanding how Tàpies escaped these temptations lies in his interest in Asian culture and, particularly, in Zen, a doctrine that professes the need to eliminate superfluous details and to contemplate insignificant objects.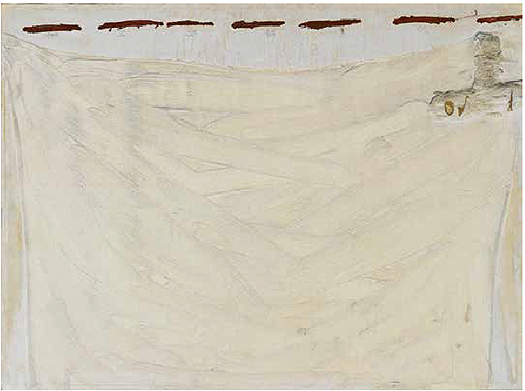 Línia discontínua [Discontinuous Line], 1967
The influence of Zen aesthetics and contemplation is obvious in works such as Línia discontínua. Built in the fifteenth century, the Ryôan-ji garden in Kyoto is the highest expression of Zen philosophy. This garden, which is bereft of plants, consists of five groups of round boulders standing in a tranquil sea of white gravel that is raked regularly. Submerged in this unadorned setting, the Buddhist monk is able to meditate, virtually undisturbed, and exercise his senses while discerning the nuances of the raked gravel and the moss-covered stones. In spite of evident cultural differences, the present work can be contemplated in a similar way. Two apparently insignificant events occur on the smoothly raked, white textured base: a reddish line is traced along the upper part of the canvas and a tear—a simple gestural mark—appears in the right corner. Everything here invites the viewer to quiet contemplation.
Javier Maderuelo
Este texto sólo puede reproducirse citando su procedencia:
Catálogo del Museu Fundación Juan March, Palma de Mallorca.