Rojo partido aplasta a plomo expresses the paradoxical tension between a type of painting that lacks paradigmatic references, and is thus located in the world of abstract ideas, and the objective reality of mundane, physical materials. American painter Frank Stella once stated that his work was "based on the fact that only what can be seen there Is there. . . . What you see Is what you see." In works such as Rojo partido aplasta a plomo the viewer should thus pay attention to what is present and can be seen, given that the painting is devoid of any external allegorical intent.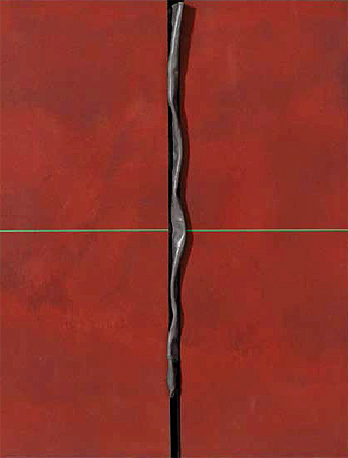 Rojo partido aplasta a plomo [Divided Red Crushes Lead], 1966
What we see is a flat plane painted in red on a rigid fiberboard sheet. The smooth field of color contains slight tonal nuances of red and is crossed by a fine, horizontal straight line painted in a shade of green—complementary to red—that divides the composition into two halves. Counterbalancing the horizontal line, the painting has been sliced vertically—cut into two identical pieces—and an irregular piece of bent lead piping has been inserted in the middle, and is now trapped between the two sections of the board.
Three elements of a different type are thus combined in order to construct the painting's composition: color, geometry and materiality. They are presented as antagonistic pairings in a game of opposites: warm and cold, smooth and wrinkled, rigid and malleable. Given their visual intensity, each of these dialectical qualities occupies a precise place in the design.
Javier Maderuelo
Este texto sólo puede reproducirse citando su procedencia:
Catálogo del Museu Fundación Juan March, Palma de Mallorca.
Torner successfully combined his dedication to painting and his job as a forestry engineer until 1965. He had started to paint in a systematic way in 1951, while living in Teruel due to professional reasons. The texture of his first abstract paintings brings to mind fragments of nature—rocks, dirt and moss—observed in detail.
Torner's interest in Jorge Luis Borges and T.S. Eliot, in twelve-note musical compositions and in contemporary art is a defining trait of his personality. An intellectual and a member of the Royal Academy of Fine Arts, he was codirector of the Museo de Arte Abstracto Español in Cuenca and art advisor for the Fundación Juan March, and a nonprofit foundation under his name has been established in his native Cuenca.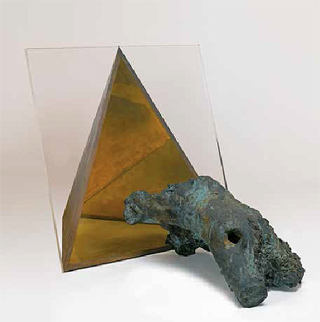 La princesa y el dragón [The Princess and the Dragon], 1989
By 1960 Torner had established a visual language based on the horizontal superimposition of two contrasting areas: a rough surface over a smooth one, spotless metal over rusted alloy, a dirt covered surface over one mixed with roots, and so forth.
Two important milestones in his career were the exhibition Homenajes [Homages] held at Madrid's Galería Juana Mordó in 1968, and the show organized by the same gallery in 1971, following his trip to Japan with Fernando Zóbel, which focused on his impressions of that country. Equally important are his books of serigraphic prints, such as Heráclito [Heraclitus, 1965], Vesalio, el cielo, las geometrías y el mar [Vesalius, the Sky, Geometry, and the Sea, 1967] and Sur-géométries [On Geometries, 1972], and his monumental sculptures —the first of these is located in the Serranía de Cuenca mountain range and was made on occasion of the World Forestry Congress, held in Cuenca in 1966.
In La princesa y el dragón Torner explores the concept of duality. As mentioned above, his work is dominated by the idea of duality, of existing realities coming together, overlapping, clashing, and complementing one another.
Juan Manuel Bonet
Este texto sólo puede reproducirse citando su procedencia:
Catálogo del Museu Fundación Juan March, Palma de Mallorca.