Rafael Solbes, who was part of Equipo Crónica with Manuel Valdés, passed away in 1981. His death put an end to the two-man group and forced Valdés to restart his career as an individual artist. It was not an entirely fresh beginning for Valdés, as he had acquired plenty of knowledge and experience during his years in Equipo Crónica. Nonetheless, he had to forge a new personal identity, which he did by moving in a more subjective and expressive direction. As a result, his pieces acquired a different appearance. However, the imagery and themes of his painting continued in the line of pop art, as evidenced in his reinterpretations of avant-garde tendencies or his ironic approach to the history of art.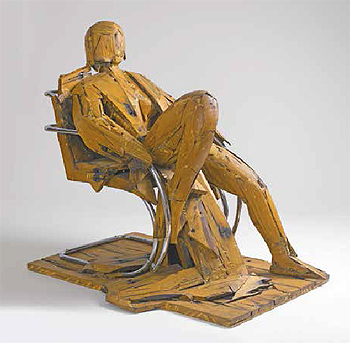 Matisse como pretexto [Matisse as a Pretext], 1988
Moving away from the pictorial precepts of pop art, in 1982 Valdés began to sculpt. This led to an interest in the textural qualities of matter. He incorporated humble or waste materials to his work—such as burlap, tar or fabric remnants—and mixed them with a highly textured oil paste. The human body became a recurring theme in his oeuvre, although, following in the tradition of Equipo Crónica, the models for these bodies were borrowed from the imagery of well-known painters, such as Peter Paul Rubens, Rembrandt, Diego Velázquez, Pablo Picasso or Henri Matisse. He used their paintings as a pretext for his own sculptures, which in turn allude to the borrowed model with a hint of irony and affection.
In Matisse como pretexto, Valdés used a real chair—a common technique in pop art—to which he added fragments of oak wood from a woodshed in order to assemble a sitting human body, quite in the style of George Segal.
Javier Maderuelo
Following the demise of Equipo Crónica due to the death of Rafael Solbes, Valdés abandoned the traditional canvas as a pictorial support and began to focus on textures and the use of inexpensive or cast-off materials in his work.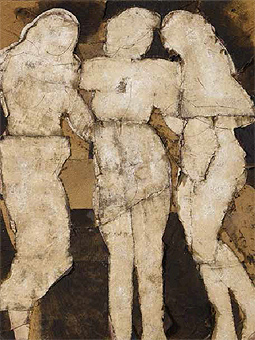 Rubens como pretexto [Rubens as a Pretext], 1988
His most frequently depicted theme was the human body, as is the case in Rubens como pretexto, where Valdés uses coarse burlap stitched with thick seams to construct the famous figures from Rubens' The Three Graces (c. 1630−1635). But Valdés does not copy Rubens' painting: rather, he appropriates a "model of intention," which he synthesizes, omitting the details, and reworks so that, even if the poses of the figures are different from the original ones, their outlines still stimulate the viewer's memory. In order to activate this memory, the essential starting point is that of images that are accessible through innumerable reproductions and, as popular icons in everyday contexts, are to be seen on a mass scale outside the context of museums. This needs to be followed by an analysis of the structural form that will allow the viewer to recognize the poses and gestures that are characteristic of works of this type.
Javier Maderuelo
Este texto sólo puede reproducirse citando su procedencia:
Catálogo del Museu Fundación Juan March, Palma de Mallorca.