Zóbel redefined the course of his artistic trajectory in the mid-1950s. As a student at Harvard University, he discovered American abstract expressionism, which starting in 1955 provided a new sense of direction to his priorly figurative work. His inclination towards abstraction was confirmed upon his return that same year to Spain, where he became acquainted with Spanish informalist artists. Zóbel not only joined this movement, but soon became its chief collector. He settled permanently in Madrid in 1961. The Museo de Arte Abstracto Español in Cuenca—which he founded in 1966 and whose collection he donated to the Fundación Juan March prior to his death—continues to stand as a emblem of his commitment to the art of his generation.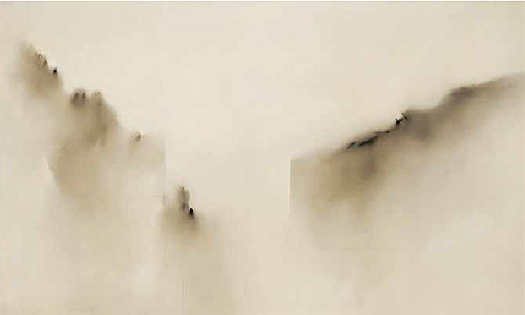 La vista XXVI [The View XXVI], 1974
By the late 1950s Zóbel had constructed his own distinctive pictorial universe. His black Saetas [Arrows] on white canvas of c. 1957 are an example of his interest in exploring the possibilities of signs, gestural marks and calligraphy. In his experiments he employed syringes, a tool that allowed him to paint with both promptness and precision, yet made room for the unexpected results of random action.
Zóbel's endeavors in landscape painting surface in these abstract works, as is highlighted by some of their titles. The artist was attracted to two types of scenery: Castile and the area of Andalusia surrounding Seville, where he had a studio.
Those of us who were fortunate enough to learn directly from Zóbel know he was a highly cultured man, as is proven by the notes he took on his visits to museums and by his Diálogos con la pintura de Fernando Zóbel [Dialogues with Fernando Zóbel's Painting, 1978], inspired by Old Master painting.
La vista XXVI was first exhibited at a solo show of the same name held at Madrid's Galería Juana Mordó in 1974. It is one of Zóbel's masterpieces, as it exquisitely combines his desire to capture the tremors of reality and the passing of time with his artistic concerns. Among the themes represented by Zóbel during this period are the shady groves along the banks of the Júcar River and the rocks that obstruct its course, as well as the Recreo Peral site in Cuenca. However, when painting this composition all Zóbel had to do was open the back windows of his house on the main square of Cuenca and contemplate the hills, the lower region of the city, and the light of the plateau.
Juan Manuel Bonet
Este texto sólo puede reproducirse citando su procedencia:
Catálogo del Museu Fundación Juan March, Palma de Mallorca.