Although born in Germany, Bechtold trained within the context of postcubism in post-war Paris. In 1951 he moved to Spain and settled in Ibiza, where he lived until 1954. In Spain, Bechtold made contact with the avantgarde groups of the time and undertook an informalist type of abstraction, although he never lost interest in the evolution of painting in the United States. In line with Mark Rothko, the visual elements in his paintings gradually shifted towards the outer edges of the work, while, influenced by minimalism, his initial informalism gave way to a more geometrical rigor.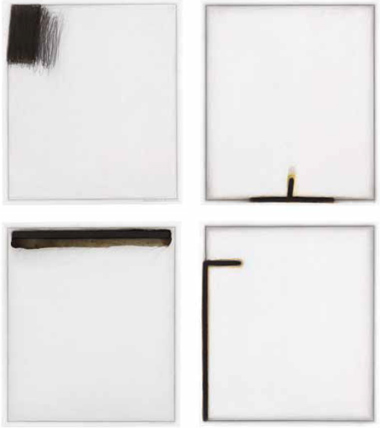 77-52, 77-53, 77-61, 77-68, 1977
The four paintings which make up this group are a good example of Bechtold's artistic style and evolution. Here the artist eliminates color and restricts his palette to white, a very soft gray and an intense black with halos of acidic colors, thus emphasizing minimalistic rigor. The geometrical and gestural strokes are limited to the edges of the canvas while the center is left empty. A straight line re-frames the canvas, revealing its boundaries and separating the faint gray on the inside from the edges, which stand out in white. This smooth line is used to articulate the specific themes of each of the paintings: thicker and slightly gestural lines and small surfaces created from the accumulation of lines.
These works encourage a sensation of emotional balance and logical order, as they do not tend towards the cold rigor of minimalism nor do they fall into the psychical exaltation that characterizes abstract expressionism, but remain within the stylistic context of a restrained lyricism.
Javier Maderuelo
Este texto sólo puede reproducirse citando su procedencia:
Catálogo del Museu Fundación Juan March, Palma de Mallorca.