Trained as an architect—a discipline he subsequently practiced and taught—as an artist Ramón Sierra belonged to the group of painters known as the "Sevillian abstract generation," which revolved around the magazine Separata (1979−1981), for which he worked as a designer and contributed articles. Both this magazine and the exhibitions promoted by emerging local galleries during the years of the Spanish transition to democracy revitalized cultural activity, introducing modern art to Seville.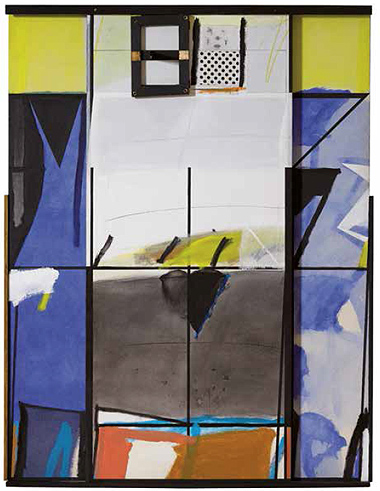 Camarín, Pinturas al agua [Water Paintings] [Liturgical Space], 1982
As a painter, Sierra began working on imaginary portraits of an expressionist nature, before becoming interested in abstraction in the late 1970s. His work reveals a certain sense of drama indebted to the Sevillian baroque tradition, which is clearly reflected in this representation of a camarín, a liturgical space located behind an altar that is used to house a devotional sculpture. The starting point of the painting is a small wooden door that is shown open at the top, giving rise to a grid of lines that is articulated in the manner of an altarpiece, a common element in Andalusian churches. Here, however, there are neither religious sculptures nor figures, just lines and colors that maintain both a formal balance—between geometrical order and expressive stroke—and a chromatic one—between cool colors (blues and grays) and sharp ones (yellows and oranges), which in an altarpiece represent purity and power. Hence, this stylistically abstract painting retains clear signs of a figuration that derives from local imagery in its use of formal and chromatic structures typical of traditional baroque culture.
Javier Maderuelo
Este texto sólo puede reproducirse citando su procedencia:
Catálogo del Museu Fundación Juan March, Palma de Mallorca.