Following a rigorous academic training as a historian and his early artistic adherence to surrealism, Reguera's career as an abstract painter evolved through his admiration for the work of Mark Rothko and Fernando Zóbel. Hence, Reguera rapidly assimilated the abstract spirit and the interpretation of the picture plane as a color field, adopting the freedom of a gestural stroke that is not bound to figurative reproduction or narrative.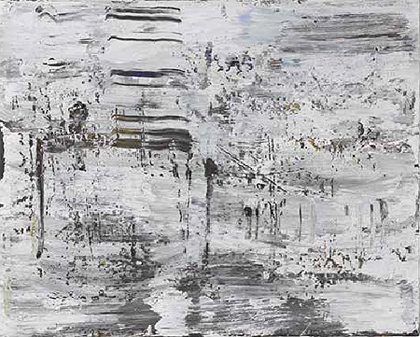 Le cercle de Chopin de Bart Spaan [Chopin's Circle by Bart Spaan], 1989
Reguera's painting is essentially color, with infinite nuances that can be used to produce complex perceptual phenomena. Painting is also, however, material, a mass that can have different textures—matte, watery, dusty or wrinkled—which, combined with color, turn the work into an infinite field of experimentation. Hence, throughout his career, Reguera has opened up an extensive range of possibilities with regard to the material nature of paint and the subtle application of color.
Le cercle de Chopin de Bart Spaan belongs to Reguera's initial period. The title refers to the music of the Dutch composer Bart Spaan, with whom Reguera has collaborated artistically. Some of Spaan's piano compositions are inspired by Reguera's abstract landscapes, which trace the subtle presence of light and color in nature. On the other hand, in this work Reguera establishes a dialogue with Spaan's music through rhythmical gestures and horizontal strokes, although the sound theme does not condition his visual experimentation. Here the chromatism is reduced to a narrow range of grays and to a subtle interplay of textures with differing degrees of roughness.
Javier Maderuelo
Este texto sólo puede reproducirse citando su procedencia:
Catálogo del Museu Fundación Juan March, Palma de Mallorca.