Together with Gerardo Delgado and José Ramón Sierra, Suárez was part of the so-called "Sevillian abstract generation," a group of Architecture professors who in the 1970s and 1980s associated themselves with the group of painters living in Cuenca through Fernando Zóbel and Gerardo Rueda, who became their mentors.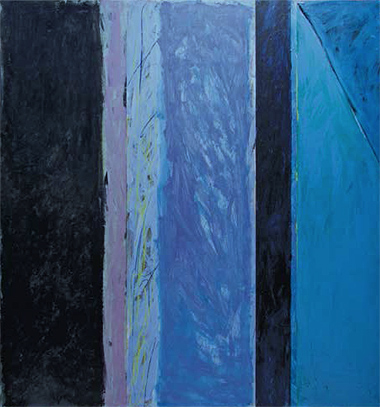 Tríptico azul [Blue Triptych], 1981
Suárez's work is characterized by his use of a constructivist geometry that is based more on color and rhythm than on mathematically rigorous structural elements. His paintings are poetic abstractions based on realities activated by the memory of the artist, who makes use of recollections of sensations, such as colors provoked by mid-day or evening light, rather than those of objects or places. Suárez's works are normally large-format paintings in which he expresses an aesthetic associated with the idea of interior landscapes.
In Tríptico azul the delicate colors create an irregular sequence of vertical bands through glazes, superimposed lines and irregularly applied brushstrokes. These procedures allow Suárez to represent vibrations, textures and nuances in what is an extensive process of research into chromatism and light. Each band of color acquires its own character, not just because of the different colors, but also due to the contrasting textures and the different ways of applying the paint, revealing an extensive range of tonal and volumetric qualities.
Javier Maderuelo
Este texto sólo puede reproducirse citando su procedencia:
Catálogo del Museu Fundación Juan March, Palma de Mallorca.