Miura arrived in Madrid at the age of nineteen with the aim of broadening her studies in Fine Arts. However, she settled permanently in the Spanish capital, where she met numerous artists—including Fernando Zóbel— and contributed to the development of experimental art in Spain in the second half of the 1960s. Miura's contribution focused on the creation of visual research projects that looked at sensory perception in a methodical manner. In these projects her training and Asian sensibility encouraged her to focus more on natural processes than on producing works with an emphatic formal presence.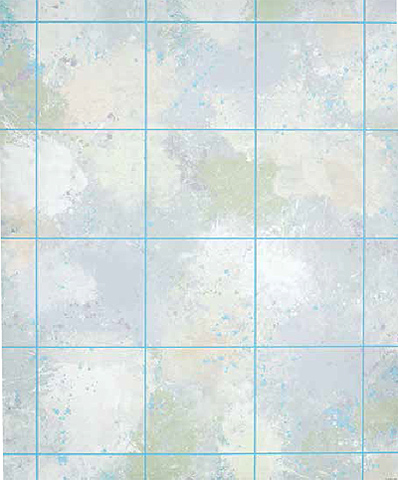 Untitled, 1983
Many of Miura's works derive from particular experiences in the natural world, like those obtained by exposing her body to the influence of exterior stimuli such as light, air or humidity. Both these experiences and nature are subsequently rationalized, aestheticized and translated in a wide variety of ways into geometrical forms and chromatic tones that can resemble those of minimalism. Nonetheless, Miura's work is not formalist, given that her interest lies in the comprehension of nature's almost imperceptible nuances.
This untitled work includes two clearly differentiated elements: an orthogonal grid and a chromatic field made up of large, irregular patches of soft-toned colors with diluted outlines. The grid conveys the idea that the artist is applying an analytical method, suggesting the lengths of string used by archaeologist to divide up sites under study. The subject to be analyzed here is the confused and deliquescent world of sensory stimuli, such as the impact of colors on the retina.
Javier Maderuelo
Este texto sólo puede reproducirse citando su procedencia:
Catálogo del Museu Fundación Juan March, Palma de Mallorca.