After an initial stay in Madrid in 1950, Grilo lived and worked in Paris and New York until 1970, when she settled permanently in Spain with her husband, the painter José Antonio Fernández-Muro, and their children. By that time, Grilo had already developed a wide-ranging career as a painter in Argentina, where she was a member of Buenos Aires' Grupo de Artistas Modernos, and in the United States, where her work evolved from an initial post-cubist figuration to geometrical abstraction. Following her time in New York, Grilo's output evolved towards works characterized by their free gesturality in which the figures are replaced by numerical and textual signs that recreate torn posters and urban graffiti with enormous delicacy and visual awareness.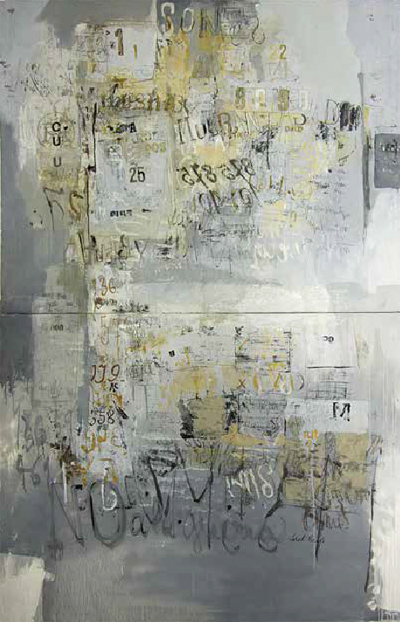 Aviso [Announcement], 1971
Once established permanently in Madrid, Grilo exhibited her work in 1972 at the legendary Galería Juana Mordó, which specialized in Spanish abstract painters. Aviso, which was subsequently acquired by Fernando Zóbel, is an example of the type of painting described above, as it combines the gesturality of the American artist Cy Twombly with the experiences of lettrism, poster design and French nouveau realisme, which blend to formulate Grilo's very distinctive and characteristic style. Over a gray background that reminds us of a street wall, we see fragmented, torn and superimposed texts and numbers, hand-written or printed both in the correct direction and backwards, as so often seen on street walls where advertisements and announcements are stuck on top of each other, soon to be torn and worn by weather and time.
Javier Maderuelo
Este texto sólo puede reproducirse citando su procedencia:
Catálogo del Museu Fundación Juan March, Palma de Mallorca.