Grau was a member of the editorial team of the Trama journal. Together with José Manuel Broto, Javier Rubio and Gonzalo Tena, he was also part of the group of "New abstraction" painters referred to as Pintura- Pintura [Painting-Painting]. Inspired by the French group Supports/ Surfaces and by the journal Peinture, cahiers théoretique, these painters responded with "pure painting" to the conceptual current that had emerged in Barcelona some years earlier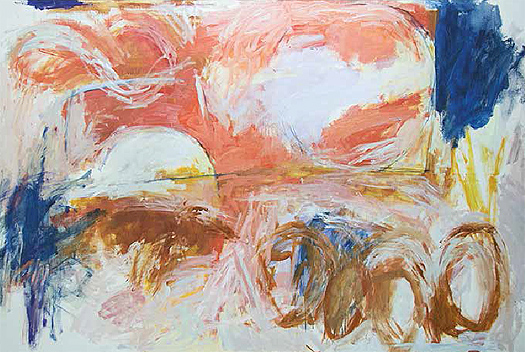 L'escola de Venècia II[The School of Venice II], 1981
The tautological term "paintingpainting" reflects the idea of producing a type of painting that is nothing more than painting. Grau has been one of the firmest supporters of this axiom, as is clearly evident in works such as L'escola de Venècia II, the title of which refers to one of the most color-based schools of Renaissance painting, to which Grau pays tribute. A series of characteristics in the work convey this approach—notably the sweeping gestures that create the arches and the different surfaces, executed with thick, enveloping brushstrokes in fleshy, sensual colors applied without any inhibition.
Grau thus constructs a lively, expressive painting, but one that is controlled by a structural order defined by lines that produce specific shapes —circles, straight lines and ovals— maintaining a compositional tension between two large areas surrounded by lesser visual motifs. Using this approach, Grau achieves complex compositions in which—as in the work of Venetian painter Titian—different overlapping elements create an overall sense of enormous vitality.
Javier Maderuelo
Este texto sólo puede reproducirse citando su procedencia:
Catálogo del Museu Fundación Juan March, Palma de Mallorca.