Introducción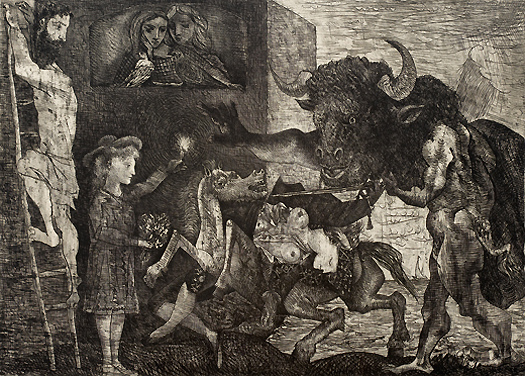 La minotauromachie [La minotauromaquia], 1935
Pablo Picasso (Málaga, 1881−Mougins [France], 1973) always granted great importance to printmaking, as proven by the fact that between 1899 and 1972 he applied himself to this artistic genre without interruption, producing approximately 2,200 prints. Accurately dated, these prints provide us with a personal diary that enables us to retrace Picasso's trajectory.
Given his extraordinary drawing skills, Picasso achieved the same remarkable and expressive results in this field as in other artistic disciplines, bringing his prints to the level of his better-known work. A tireless worker, Picasso not only produced cycles of paintings, but also executed series of prints that reveal his favorite themes and preferred techniques. His relentless exploration of different disciplines and his mastery of various media make Picasso a universal artist and one of the greatest printmakers of all times.
The Museu Fundación Juan March devotes one of its exhibition spaces to Picasso's prints, which complement the overview of Spanish avant-garde art offered by the museum's permanent collection.