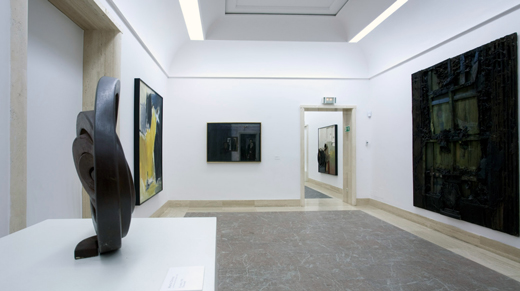 Through this small but exceptional collection of carefully selected works— consisting mainly of paintings and sculptures —the Museu Fundación Juan March showcases the artists and movements that emerged in Spain throughout the twentieth century, with special emphasis on the art of recent decades. The works on display also provide an overview of the most fruitful and productive periods in Spanish contemporary art. As Juan Manuel Bonet points out, a spectator with no previous knowledge of Spanish modern art should have an accurate picture of how art developed in the country after visiting the collection.
Twentieth-century art was marked by changes in style and form pioneered by a group of artists who met and lived in Paris, then the capital of modernity. Juan Gris, Julio González, Joan Miró, Salvador Dalí, and Pablo Picasso—all of whom are well represented at the museum—became leading fi gures of the groundbreaking avant-garde, a movement now deemed classic. Today their names are internationally famous and their works are exhibited in prestigious museums worldwide.
During the second half of the twentieth century, art in Spain became more eloquent and widespread as a result of the development of distinctive aesthetic trends such as Spanish Informalism, Geometric Abstraction, or Magic Realism. Though these trends coincided with other international art movements, they preserved an expressive language all their own. In the midst of the turmoil surrounding art in the 1950s and 60s, Fernando Zóbel, together with Gustavo Torner and Gerardo Rueda, founded the Museo de Arte Abstracto Español in Cuenca. From the moment its doors opened in 1966, this museum became 10 a point of reference for both the public and the Spanish art scene until the Museo Nacional Centro de Arte Reina Sofía was inaugurated in Madrid in the 1980s. Now managed by the Fundación Juan March—which received and began supplementing the Zóbel collection in 1980—the Museo de Arte Abstracto Español has been the linchpin of the collection at the Museu Fundación Juan March in Palma, as the Fundación—s own collection continues to grow.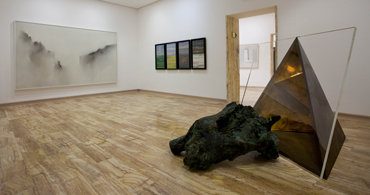 An intense dialogue is established between the artists featured in the museum galleries. Their work captures the spirit of those years and reveals a network of mutual infl uences. Within the context of Spanish Informalism, the quiet, textured abstraction of Antoni Tàpies is confronted with the cry for freedom expressed in the works of Antonio Saura, Rafael Canogar, Manuel Millares, and Luis Feito, artists who renewed the most traditional aspects of Spanish culture through the use of an expressive and emotional language.
The presence of internationally renowned artist Antoni Tàpies is particularly noteworthy owing to the quality and quantity of works on display at the Museu. Tàpies conceives the picture as a physical or material wall—his subject matter par excellence—a highly evocative surface that marks a divide with another reality. His inquiries into the nature of pictorial elements have helped him to transcend traditional illusionist painting, while his interest in the insignifi cant aspects of everyday life and the tangible qualities of objects has brought his work close to Zen philosophy and the aesthetics of contemplation.
Basque sculptors Jorge Oteiza and Eduardo Chillida are also well represented at the museum. By the 1950s, these artists had already managed to 11 forge an artistic language of their own, much as Tàpies and Pablo Palazuelo had done. A private and solitary artist, Palazuelo produced work that is diffi cult to classify: his rhythmic and geometric forms are charged with lyrical and transcendental meaning and, consequently, do not entirely fi t into the category of analytical abstraction.
Jorge Oteiza, on the other hand, aimed to renovate Basque art and sculpture by reasserting its identity. To this end, he systematically examined void space, either by exploring its expressive qualities or eschewing any symbolic meaning derived from the geometric volume that defi nes it. Like Oteiza, Eduardo Chillida had an ascetic vision of art that led him to refl ect on space. He worked directly with iron, which he forged himself, thus leaving traces of the strength and intensity of each blow of his body. Infl uenced by both Classicism and Primitivism, Chillida expressed his interest in nature and man—s ability to transform it into art.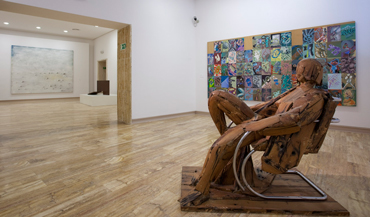 12 Against an unsettling backdrop, Lucio Muñoz—who used wood as a support for his expressionist creations—Antonio López, and Julio López Hernández followed the line of artists who sought to renew Spain—s cultural heritage. The work of Antonio López and Julio López Hernández is fi gurative, though charged with an enigmatic and sometimes inscrutable symbolism that links them to Magical Realism. José Guerrero approached this movement from a different perspective. Though his career developed along the lines of American Abstract Expressionism— where he explored the limits and vibrations of color—his work evokes certain traits of the Spanish character.
13 The Spanish scene also embraced artists who were openly opposed to Informalism, such as Eusebio Sempere and Andreu Alfaro. In the context of European Geometric Abstraction, these artists aimed to create a type of abstract art that would follow Constructivist experimental practices. Sempere, for example, based his entire body of work—painting, serigraphy, and sculpture—on a method of geometric analysis. In his search for simplicity and clarity, Andreu Alfaro —drew in the air— with iron and stainless steel while instilling his sculptures with symbolism. As such, these two artists represent the other extreme of Spanish abstraction.
During this period, a renewed style of fi gurative art emerged. It contained references to popular culture and expressed a certain degree of social criticism. Within this context, Eduardo Arroyo, Juan Genovés, and the group Equipo Crónica, represented—either individually or collectively—situations they had personally experienced. Due to their themes and techniques, they are often linked to international Pop Art.
These decades of intense creative activity gave rise to a contemporary art that did not follow a specifi c set of principles, and in which several tendencies coexisted at once, allowing artists to explore the limits of art and create new forms of expression. Spanish art began to show signs of opening up to European movements in the early 1970s, assimilating the most radical aspects of Minimal and, especially, Conceptual Art, and responding to new experimental movements which transcended the traditional media of painting and sculpture.
Faced with this situation, several painters such as José Manuel Broto, Miguel Ángel Campano, Gerardo Delgado, and José María Sicilia, sought to come to the forefront in the 1980s with a renewed abstraction based on pure painting. This return to painting met with anticipation, which became all the more palpable with the work of Luis Gordillo and that of his contemporaries: fi gurative painter Guillermo Pérez Villalta; abstract artists Albert Ràfols Casamada, Jordi Teixidor, and Soledad Sevilla; and the experiments of Navarro Baldeweg and Darío Villalba.
Miquel Barceló is a special case among the emerging artists of the 1980s. During this period he epitomized the fi gure of the up-and-coming artist. However, no one could have foreseen the national and international recognition he would eventually achieve. Barceló has progressively consolidated his visual language, drawing his subject matter largely from nature and pushing the boundaries of traditional methods.
Coinciding with a return to pure painting, these years saw a renewed interest in sculpture. Artists such as Sergi Aguilar, Juan Bordes, Susana Solano, or Eva Lootz—all of whom put forward very different ideas—managed to bring this art form back to life. Infl uenced by the installations and actions of conceptual artists, they transcended the limits of traditional sculpture as they reached artistic maturity.