'Exhibiting' sound works in spaces conceived for presenting the visual arts
Arte sonoro en España (1961–2016) takes on the challenge of exhibiting the multiple facets of sound as a vehicle for expression, from the interaction between sound and architecture in Bosch and Simmons's Mirlitones (2012) and Ramón González-Arroyo's L'Isla des Neumas (2008), the limits of the audible and silence addressed in Juan Muñoz's Pieza escuchando la pared (1992), Esther Ferrer's Música Zaj (ca. 1999) and Josep Manuel Berenguer's explorations of the asyncronicity and rhythm of firefly behaviour in Luci: sin nombre y sin memoria> (2008) to the sensorial connection between the spectator and Mikel Arce's 2004 multimedia sound installation *.WAV, the title of which refers to 'waveform audio file format', a popular standard for storing audio bit streams on computers. José Iges and Concha Jerez take a completely different approach in Inventario (1992–1998), which addresses the rapid obsolescence of sound technology and its impact on collective memory.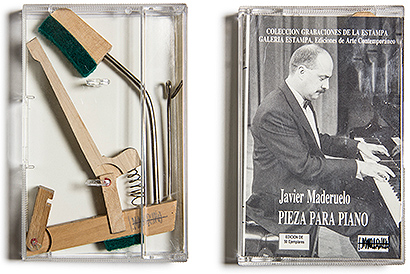 Javier Maderuelo. Pieza para piano [Piano piece]
Galería Estampa. Ediciones de Arte Contemporáneo, 1990. Private collection
The exhibition also features a wide variety of recordings, installations and sound sculptures that trace the artistic practices of artists such as José Luis Castillejo, Francisco Felipe, Eva Lootz, Llorenç Barber, Francisco López, Javier Maderuelo, Pedro G. Romero, Mikel R. Nieto and Oscar Abril Ascaso who rejected traditional concert formats or approached recording in and of itself as an artistic medium. In addition to documentation and materials related to sound art events in Spain from the Encuentros de Pamplona of 1972 to recent group exhibitions, the exhibition features media used to produce sound art at different points of time that have since become obsolete as well as representative works of sound poetry, action art, video art and radio art.
As one of the main objectives of the organisers has been to establish a harmony between the audio and visual works on display
Mounting an exhibition of these characteristics implies creating solutions for problems inherent to the presentation of sound-based art in eminently visual environments. As the permanent exhibition spaces of museums – and to an even greater extent the galleries they use to house temporary exhibitions – are designed to conform to the logic of the perpendicular gaze, they are often onerous or even aggressive environments from the perspective of acoustics. The reverberation of ambient sound in these spaces produces acoustic spills that hinder visitors' contemplation of works in adjacent galleries. Isolated spaces and soundproofed galleries, on the other hand, have a tendency to diminish or distort visitor experience and make it difficult to establish and maintain any particular curatorial discourse.
As one of the main objectives of the organisers of Arte sonoro en España (1961–2016) has been to establish a harmony between the audio and visual works on display, every possible effort has been made to preserve the integrity of individual pieces and the ways in which they have been conceived to interact with the spaces in which they are presented while avoiding unnecessary and distracting acoustic overload.