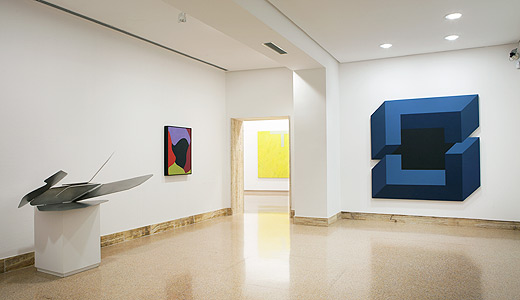 De izquierda a derecha, obras de Pablo Palazuelo, Equipo 57, Jordi Teixidor y José María Yturralde en los espacios del Museu Fundación Juan March. Octubre de 2013
Foto: Xisco Bonnín
Museums and their collections are living organisms, not static realities or institutions frozen in time. Under the generic title, The Collection Exhibited, the Museu Fundación Juan March in Palma will inaugurate a new project related to its collection.
In this first edition, the Museu has reorganized the collection and will display around thirty new works. These new arrivals bring to the museum's spaces for the first time a series of very important figures in Spanish contemporary art from the last decades among them artists like Elena Asins, José María Yturralde, José Luis Alexanco, Erwin Bechtold, Mitsuo Miura, Equipo 57, and Txomin Badiola; they also further expand the representation of other artists whose work may already be found in the museum.
The Collection Exhibited (2013-2014): New Arrivals is the first in a series of presentations of the collection that will take place each year between the fall and spring at the Museu Fundación Juan March. The idea behind this model is that the traditional, excessively static division in museums between a permanent collection and temporary exhibitions should be rethought more dynamically. Thus, for several months out of every year, the museum will take advantage of the entire space it has available in order to work temporarily with the holdings in its own collection, augmenting them with pieces on loan from other collections in Spain and abroad. The objective is to produce broader, more coherent presentations of the Museu Fundación Juan March's own collection which ranges from the historical avant-gardes up to the 1980s, with an emphasis in particular on abstract painting and sculpture as well as to establish relationships between the collection and other currents and tendencies in Spanish and international contemporary art.
That same day, the Museu also will open the exhibition Minotauromachie (1935). Picasso in his Labyrinth (to May 31, 2014) in the Museum's Graphic Art Space, with a selection of prints from the Suite Vollard and copies of the journal Minotaure, to accompany La Minotauromachie, the central work in Pablo Picasso's graphic oeuvre.