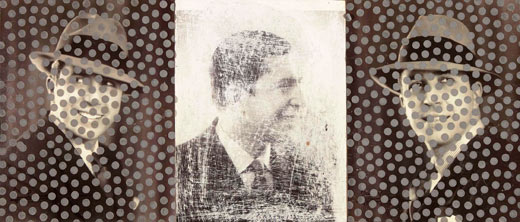 Carlos Gardel
, 1991
Under an intentionally redundant title, the exhibition Eduardo Arroyo: Portraits and Portraits brings together over one hundred works by the artist and focuses on two aspects that have been present throughout Arroyo's prolific career as a painter. These themes, however, have not been explored until now and even less so presented side by side.
On the one hand, the show focuses on Arroyo's output as a portrait artist. From the onset of his career, Arroyo has executed portraits (and self-portraits) of both fictional and historical and living subjects. The main objective of the exhibition and the works selected is the latter: self-portraits and portraits of real, historical subjects, rather than representations of fictional characters.
The 8 sculptures, and 33 paintings and drawings that comprise the exhibition draw from a range of public and private collections in Spain and abroad. Together, they represent a gallery of portraits –some well known and others strictly novel– of historical, Spanish and international subjects: historical figures of the like of Isabella the Catholic; a range of public figures from Napoleon and the Queen of England to Carmen Amaya; writers such as Franz Villiers; boxers like Marcel Cerdan; poets like Hölderlin; painters such as Soutine, Van Gogh, Rembrandt or Richard Lindner; or martyrs such as Saint Sebastian… and even the painter himself.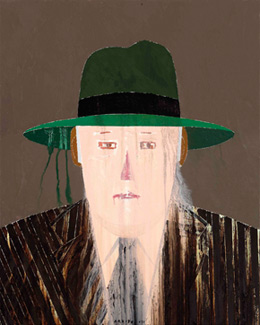 Autorretrato
, 2011
The selection of works includes pieces from the late 1950s, when Arroyo settled in Paris, to 2012. Also featured are sculptures and, most notably, three recent self-portraits that appear to have been signed cum ira et studio —the faces reveal traces of liquid the artist intentionally splashed across the finished works. They reflect the deliberate mixture of seriousness and humor that has come to characterize Eduardo Arroyo's prolific body of work.
Arroyo has also shown great interest in a second form of artistic production, a technique that was referred to as "portraiture" not so long ago (at a time when having your picture taken was an equivalent to having your portrait done): photography. Although the artist has always embraced photography, he took a more operative approach to it in the 1970s. Photography did not appeal to him as an artistic device –Arroyo never intended to be a photographer, and even less so an "artist-photographer"–, rather he was inspired by the role it played as a vehicle for social and family memory; or, in other words, for its narrative strength. In this sense, Olivia María Rubio, curator of the exhibition and author of one of the essays in the catalogue, has referred to his output as "photographic narrations."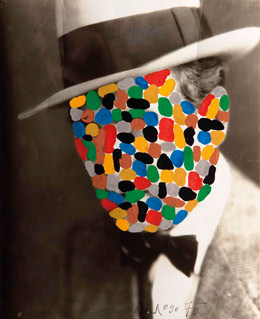 Entre pintores
, 1975
Arroyo has worked with old photographs of street and flea markets, scraps from family albums, or unsigned photographs of anonymous subjects. Modifying the objects and their qualities by painting, cutting, fragmenting or juxtaposing them to drawings, paintings or tracing paper, he created series of collages and photo-collages that best responded to his tastes and pictorial interests. The 70 photographs that complete the exhibition, including many unpublished works from the artist's private collection, attest to his engagement with photography. This was, in fact, the focal and starting point for the present exhibition project.
Eduardo Arroyo: Portraits and Portraits is organized by the Fundación Jun March with the collaboration of La Fábrica. On occasion of the exhibition, the Fundación Juan March has published a richly illustrated catalogue featuring an interview with Eduardo Arroyo, essays by Olivia María Rubio, Michel Sager and Manuel Fontán del Junco, and texts by Fabienne di Rocco.