Pablo Picasso (Málaga, 1881 – Mougins, 1973) always accorded great importance to his graphic work: between 1899 and 1972 he created more than 2,000 engravings, which comprise a virtual diary of his life as an artist.
This cabinet features a rotating display of Pablo Picasso's graphic work belonging to the collection held in storage at the Museu Fundación Juan March. In addition to the prints now in exhibition and others contemporary works, in this collection there is the Suite Vollard (1930-37) and the serie Tauromaquia [Bullfighting] (1957).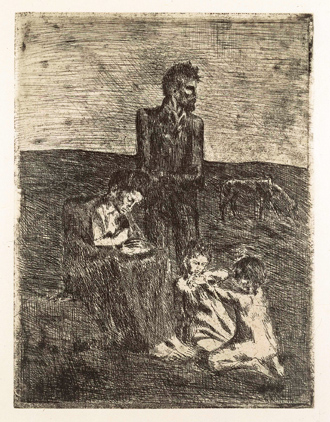 Picasso. Les pauvres, 1905
This time, the selection of engravings exhibited allows to recreate the artist's career in the beginning and up to his first attempts into Cubism and recognize the formal and iconographic issues that interested him in those moments.
For instance, in the celebrated etching Le repas frugal [The Frugal Repast] (1904) Picasso represents with surprising realism themes such as poverty, misery and sorrow-distinctive of his earlier Blue Period, while these small circus scenes exhibited, which belong to his Rose Period, reflect Picasso's fascination with acrobats and actors, performers with whom he was acquainted. They are also engravings as the Cubist Period, where Picasso, in his attempt to break with traditional perspective, configured objects by decomposing them in as many planes as possible viewpoints.
Gabinete
Situado en el centro del museo, un gabinete acoge y exhibe los fondos de obra gráfica de la colección de la Fundación, en especial la obra sobre papel de Pablo Picasso en la colección. En rotación —en atención a las condiciones específicas de conservación de las obras sobre papel—, se exponen grabados del artista pertenecientes a la etapa azul (1901–1904), la etapa rosa (1904–1906), el período cubista (1907–1917), la conocida Suite Vollard (1930–1937), o la Tauromaquia (1957). Destaca entre ellas la Minotauromachie (Minotauromaquia, 1935), un aguafuerte incorporado a la colección permanente del Museu y considerado por muchos especialistas la principal obra del Picasso grabador y una de las más altas creaciones del grabado moderno.
Este espacio acoge también pequeñas exposiciones de gabinete y complementa así la colección de arte español contemporáneo y las exposiciones del museo.