From February 21 through May 26 the Museu Fundación Juan March in Palma will showcase the work of Hans Hinterreiter (Winterthur 1902 – Ibiza 1989), a Swiss artist who formed part of the circle of concrete artists close to Max Bill. Hinterreiter, who spent most of his life in Ibiza, produced an extensive and singular body of work focused on geometric shapes and heavily influenced by music and color theory comprised of paintings that convey a sense of dynamic movement.
This exhibition, which will later travel to Cuenca's Museo de Arte Abstracto Español, features a group of seventy-five works drawn primarily from the holdings of the Hans Hinterreiter Stiftung in Zurich that also includes pieces from private collections and a variety of documents that help visitors reconstruct the ongoing research on color and form the artist conducted on the basis of the constructivist logic he pursued throughout his entire career.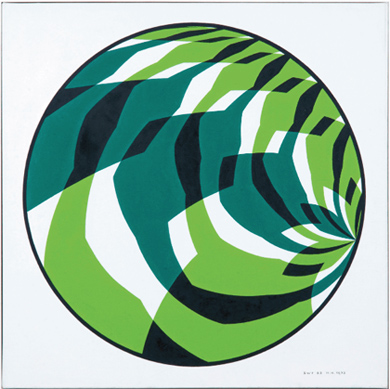 Hans Hinterreiter. SWF 53, 1973. Hans Hinterreiter Stiftung
Concurrent with the exhibition, the museum will offer Abstraction in Motion (1921-2012), a program of twenty experimental films combining abstraction, movement, and visual music that range from classics produced by the 1920's avant-garde to contemporary works
In the 1930's, following his studies in mathematics and architecture, Hinterreiter discovered the systematic color theory devised by the German chemist and Nobel laureate Wilhelm Ostwald. From that point on, he would devote his energy to the development of a highly personal theoretical and practical approach to artmaking that involved the creation, at Ostwald's suggestion, to what he referred as the Formorgel (form organ) and the Farborgel (color organ), tools that would enable him to produce a wide variety of color and form combinations based on elemental geometric structures. Hinterreiter expounded his studies on form and color further in his books Geometrische Schönheit (Geometric Beauty), released in 1958, and Die Kunst der reinen Form (The Art of Pure Form), published in Barcelona in 1978.
The catalogue prepared for this exhibition is the first monograph on this artist to be published in Spanish. This publication includes texts by Hans Hinterreiter and Max Bill, essays by authors specializing in his work such as Rudolf Koella, Karl Gerstner, and Timo Niemeyer, and a selection of correspondence between Hinterreiter and Max Bill edited and annotated by Jakob Bill.
Concurrent with the exhibition Hans Hinterreiter (1902–1989), the museum will offer La abstracción en movimiento (1921-2012), a program of twenty experimental films combining abstraction, movement, and visual music that range from classics produced by the 1920's avant-garde to contemporary works, all of which explore the relationship between form, color, and music. This compilation, which features the work of artists and cinematographers such as Man Ray, Hans Richter, Marcel Duchamp, Walter Ruttmann, Oskar Fischinger, and László Moholy-Nagy as well as contemporary artists such as Larry Cuba, Adam Beckett, and Aurora Gasull-Altisent, was curated by MAD, the organizers of the Punto y Raya Festival, an international event devoted to abstract art in motion, in collaboration with the Fundación Juan March. These films, which will be projected in loop during exhibition hours in the museum's exhibition space dedicated to prints, provide a context for the work produced by Hinterreiter following his discovery of Hispano-Islamic ornamentation during a 1934 trip to the South of Spain. This experience triggered his interest in this type of motifs and led him to develop new variations of form and color and create a type of painting that can be described as "images that flow. "