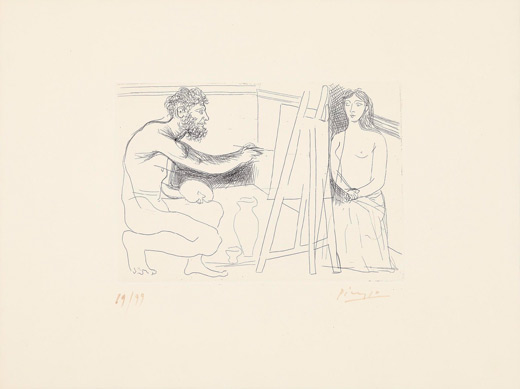 Pintor ante su caballete
, 1927
The exhibition comprises thirteen etchings that Picasso completed in 1931 to accompany a special centenary edition of Balzac's short story.
Pablo Picasso (Malaga, 1881 – Mougins, 1973) is widely recognized to have been one of the greatest printmakers of all time. Although he made prints throughout his career, in the 1930s he produced various series of etchings that many consider landmarks in the history of engraving. These include the series that his dealer Ambroise Vollard (Saint–Denis, Reunion Island, 1866 – Paris, 1939) commissioned for a new edition of "Le Chef d'oeuvre inconnu" ("The Unknown Masterpiece", first published by Honoré de Balzac (Tours, 1799 – Paris, 1850) in 1831.
The thirteen etchings Picasso originally produced to accompany Balzac's work were eventually published by Vollard as a folder series. Set in the 17th century in the Parisian studio of an ageing artist, Frenhofer, Balzac's story revolves around the painter's obsession with a work which he has secretly spent years struggling to finish. When two painters, admirers of the artist's work, finally manage to get a glimpse of the painting, they are dismayed to discover just an indecipherable jumble of brush strokes and layers of paint in which they can barely distinguish a foot: the creation of a madman, of someone obsessed with achieving perfection who refuses to accept the imperfection inherent to even the most sublime works of art.
The short story fascinated Picasso, who identified with Frenhofer, the frustrated genius who created works of art so ahead of his time that no one understands them. Picasso seized the opportunity offered by Vollard's commission to render tribute to the act of creation itself. As a result, the etchings are not so much illustrations of Balzac's story as Picasso's reflections on the subject of the artist-creator and the intimate relation between the artist and his model. This, indeed, is the theme of most of the thirteen works that make up this exhibition of the "The Unknown Masterpiece".