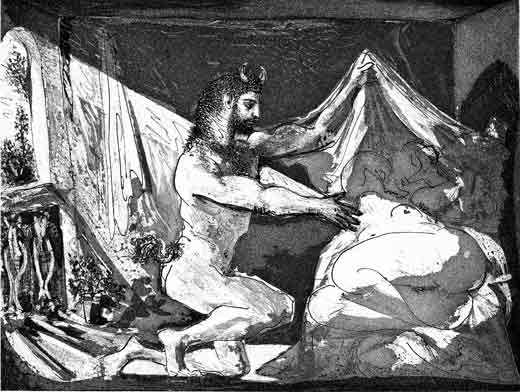 Faun Unveiling a Woman
(Jupiter and Antiope after Rembrandt)
, Paris, June 12, 1936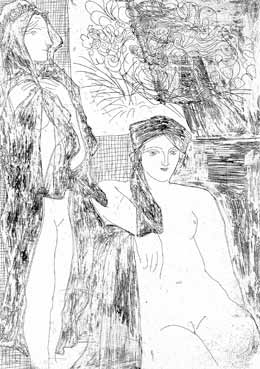 Rembrandt and Two Women
Paris, January 31, 1934
Pablo Picasso (Málaga, 1881 – Mougins, 1973) always gave enormous import to the art of printmaking. Although he utilized the technique throughout his life, during the 1930s he completed various series of etchings, considered since then to be among the most important in the history of the medium.
On this occasion the museum has gathered prints included in the Suite Vollard which demonstrate Picasso's interest in the Old Masters, particularly in the figure of Rembrandt, to whom Picasso turned on multiple occasions. In these prints Picasso converts the celebrated seventeenth-century painter and engraver into a character, reinterpreting the singular style of the Dutch master and setting him against the classicism that he himself practiced.
This gallery is dedicated to the rotating exhibition of Picasso's graphic work belonging to the permanent collection deposited in the Museu Fundación Juan March.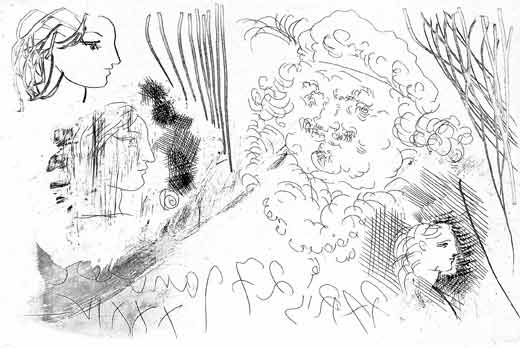 Rembrandt and Female Heads
, Paris, January 27, 1934