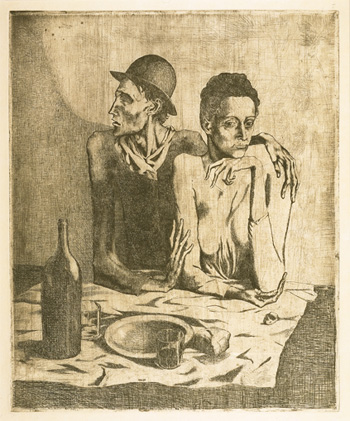 Le repas frugal
, 1904
Pablo Picasso (Málaga, 1881—Mougins, 1973) always accorded great importance to his graphic work: between 1899 and 1972 he created more than 2,000 engravings, which comprise a virtual diary of his life as an artist.
This cabinet features a rotating display of Pablo Picasso's graphic work belonging to the collection held in storage at the Museu Fundación Juan March.
A selection of Pablo Picasso's early prints is featured here, including the celebrated Le repas frugal, 1904 (The Frugal Repast). In this etching, Picasso represents with surprising realism themes such as poverty, misery and sorrow−distinctive of his earlier Blue Period to which the Works on view belong.