Between February 25 and June 6, 2015, the Museu Fundación Juan March presents a special, small exhibition based on works of art from its permanent collection as well as some on loan from the Fundación Picasso. Museo Casa Natal, Málaga (the Picasso foundation housed in Picasso's birthplace in Malaga). The exhibit focuses on some of the books that were illustrated by Pablo Picasso between 1911 and 1971. Highlights include his collaborations with the French poet Max Jacob (1876–1944) and his illustrations of classics like Aristophanes' Lysistrata (1934) or narratives such as La Celestina (c. 1500) by Fernando de Rojas (illustrated by Picasso in 1971).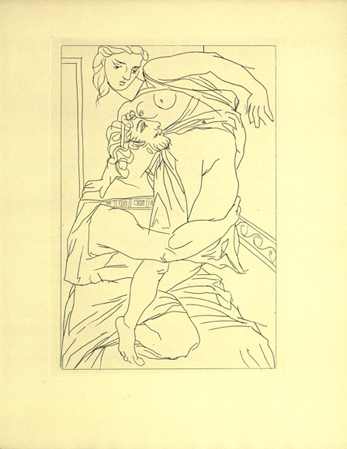 Gilbert Seldes (ed.), etching by Pablo Picasso [Kinesias and Myrrhina] for Lysistrata by Aristophanes. New York: The Limited Editons Club, 1934 © Estate of Pablo Picasso, Vegap, Madrid, 2015
Print Gallery
Situated in the center of the museum, a print library with holdings from Pablo Picasso's graphic work offers rotating temporary exhibitions (taking into consideration the requirements for displaying and conserving delicate works on paper). The exhibitions feature prints by Picasso from his Blue and Rose Periods (1901–04 and 1904–06, respectively), Cubist works (from 1907–17), and works from the renowned Vollard Suite (1930–37) and the Tauromaquia series (1957). Noteworthy among them is La Minotauromachie (1935), an etching now part of the Museu's permanent collection and that is considered by many scholars to be one of the most important examples of modern printmaking and Picasso's masterwork in the field.
This space on occasion also serves to present small exhibitions that complement the collection of contemporary Spanish art and material on display in the temporary exhibition rooms.