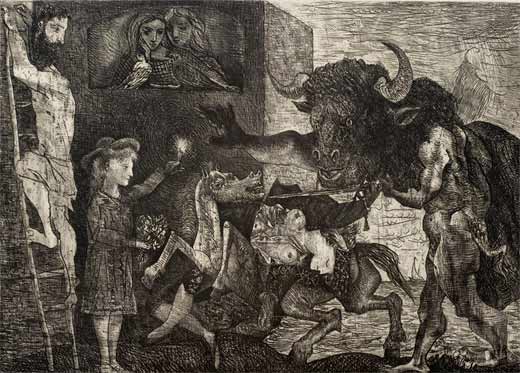 Minotauromachie
, 1935
Pablo Picasso (Málaga, 1881 – Mougins, 1973) reserved an especially important place for printmaking in his oeuvre. Though he created prints throughout his life, in the 1930s in particular, he executed a series of etchings considered among the most important in the history of printmaking. La Minotauromachie (1935) figures prominently in this series of works, and it is considered by many to be Picasso's principal achievement as a printmaker. The present exhibition revolves around this etching.
A forerunner of Guernica (1937), La Minotauromachie is a condensation of Picasso's entire universe and reveals his ability to capture a sense of existential angst in his translation of personal experience into a universal language. In this exhibition, the work is accompanied by other prints from the Suite Vollard in which the subject of the Minotaur also appears—the mythological figure that Picasso reinterprets, distancing it from classical representations and bringing it within the ambit of his own biography. In this light, the works on display serve as an artistic diary of Picasso's life during those years.
In this space, the holdings from Picasso's graphic work belonging to the collection on deposit at the Museu Fundación Juan March are exhibited on a rotating basis.