Pablo Picasso (Málaga, 1881 - Mougins, 1973) always accorded great importance to his graphic work: between 1899 and 1972 he created more than 2,000 engravings, which comprise a virtual diary of his life as an artist. This cabinet features a rotating display of Pablo's Picasso's grahic work belonging to the collection held in storage at the Museu Fundación Juan March.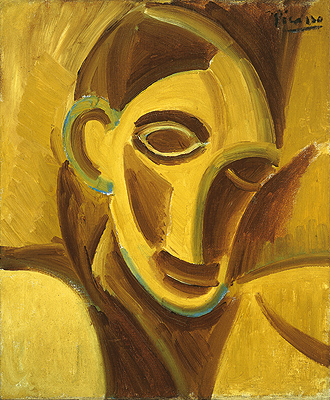 Picasso. Tête de femme, 1907
This small gallery presentation shows Tête de femme by Pablo Picasso, a 1907 oil painting from the Les Demoiselles d'Avignon series which the Fundación Juan March Museum welcomed on deposit between 1990 and 2009, accompanied by a selection of the painter's cubist etchings from the museum's collection. This "woman's head" is a clear example of Picasso's search for a new pictorial language which, profoundly marked by the influence of primitive cultures, would culminate in cubism.
Alongside the compositional simplicity, schematics, angularity and primary colours of Tête de femme, the still lives, landscapes with figures or people with musical instruments, amongst other subjects, in the set of etchings that go with it embody the formal achievement that was cubism, developed by Picasso and Braque between 1907 and 1914. Its break with traditional painting and the creation of a new pictorial grammar, with a new aesthetic sensitivity, gave way to a new relationship between the spectator and the work of art which we are experiencing today.
Print Gallery
Situated in the center of the museum, a print library with holdings from Pablo Picasso's graphic work offers rotating temporary exhibitions (taking into consideration the requirements for displaying and conserving delicate works on paper). The exhibitions feature prints by Picasso from his Blue and Rose Periods (1901–04 and 1904–06, respectively), Cubist works (from 1907–17), and works from the renowned Vollard Suite (1930–37) and the Tauromaquia series (1957). Noteworthy among them is La Minotauromachie (1935), an etching now part of the Museu's permanent collection and that is considered by many scholars to be one of the most important examples of modern printmaking and Picasso's masterwork in the field.
This space on occasion also serves to present small exhibitions that complement the collection of contemporary Spanish art and material on display in the temporary exhibition rooms.