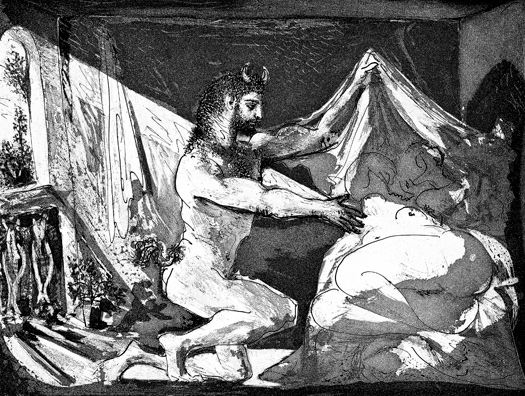 Faune dévoilant une femme (Jupiter et Antiope, d'après Rembrandt)
Faun Unveiling a Woman (Júpiter and Antiope after Rembrandt)], 1936.
© Sucession Pablo Picasso, VEGAP, Madrid, 2020
This exhibition at our Cabinet—which displays pieces of the Fundación's prints collection on a rotating basis—brings together some prints included in the Vollard Suite that show Pablo Picasso's interest in the masters of art, especially the figure of Rembrandt, whom he resorted to in numerous occasions. In these prints Picasso turns the famous 17th century painter and engraver into a character, reinterprets the peculiar style of the Dutch master and contrasts it with the classicism he himself practiced.
Pablo Picasso (Málaga, 1881 - Mougins, 1973) gave always enormous importance to the art of printmaking. Although he utilized the technique throughout his life, during the 1930s he completed various series of etchings, considered since then to be among the most important in the history of the medium.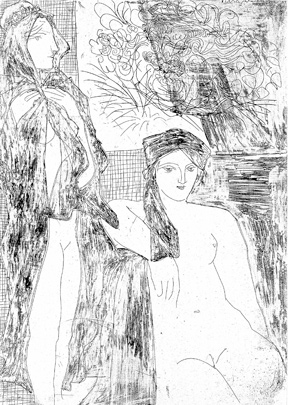 Rembrandt et deux femmes [Rembrandt and Two Women], 1934.
© Sucession Pablo Picasso, VEGAP, Madrid, 2020
Print Gallery
Situated in the center of the museum, a print library with holdings from Pablo Picasso's graphic work offers rotating temporary exhibitions (taking into consideration the requirements for displaying and conserving delicate works on paper). The exhibitions feature prints by Picasso from his Blue and Rose Periods (1901–04 and 1904–06, respectively), Cubist works (from 1907–17), and works from the renowned Vollard Suite (1930–37) and the Tauromaquia series (1957).
This space on occasion also serves to present small exhibitions that complement the collection of contemporary Spanish art and material on display in the temporary exhibition rooms.