The Collection of Art and Studies and Curatorial Practices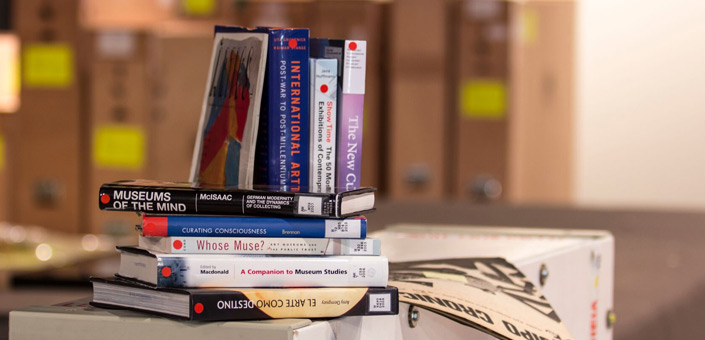 The collection of Contemporary Art and Studies and Curatorial Practices, began in 2006, and was launched in the autumn of 2014, and is currently being built up. It consists of studies on art history and theory (mainly contemporary art), monographic works on artists, catalogues of exhibitions and private collections, and art journals, in both printed and electronic format. It also includes a large special section on museography, museology and, above all Spanish and International academic publications on curatorial studies.
The collection also holds the Historical Archive of the Foundation's Department of Exhibitions, which consists of posters, brochures and any other materials that may have been published for each exhibition, as well as photographs and materials put together to assemble the exhibition. In addition, the Library is responsible for processing and cataloguing the personal library of the painter Fernando Zóbel, which consists of some 2,000 volumes (including an extensive collection of monographic works on oriental art) and will ultimately be housed in the Museo de Arte Abstracto Español in Cuenca, founded by Fernando Zóbel in 1966, and from 1981 under the responsibility of the Fundación Juan March.
Access to the Collection of Art and Studies and curatorial practices is restricted and for internal use only, although the collections will be available through the Library's catalogue. If you would like to make an enquiry, please apply for authorisation to biblioteca@march.es.