La Biblioteca del patio
To contain the COVID-19 epidemic, the library in the Sculpture Garden will be closed to the public until further notice. Loaned volumes will be returned once the library is open.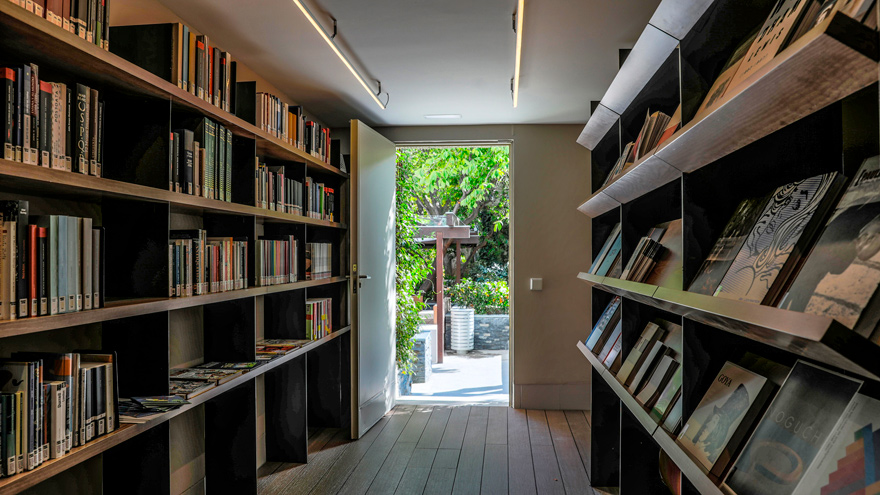 Una pequeña Biblioteca en un Patio de esculturas en el centro de una gran ciudad.
La Biblioteca del Patio de la Fundación Juan March es una biblioteca de acceso libre, pequeña en metros cuadrados y número de volúmenes, pero muy ambiciosa en sus objetivos y alcance. Quiere ser imán de nuevos y viejos lectores, que descubran o redescubran a los clásicos universales o encuentren nuevos autores, en un espacio sin barreras donde se confía en el lector.
La Biblioteca del Patio está coordinada por la Biblioteca/Centro de apoyo a la investigación de la Fundación Juan March.
La Biblioteca del Patio permanecerá cerrada del 31 de julio al 2 de septiembre por vacaciones.
Los libros actualmente en préstamo se prorrogan hasta 9 de septiembre de 2019.
Servicio
Los libros pueden leerse en el Patio o registrarse en el Autoservicio de préstamo.
En ambos casos, al finalizar su lectura deberá ser devuelto en el buzón.
Horario
Lunes a sábado y festivos: 11:00-20:00
Domingos: 10:00-14:00
Los días de lluvia o viento la Biblioteca del Patio permanecerá cerrada por seguridad
Autoservicio de préstamo
Siga los pasos que indica la pantalla. Para registrarse es necesario disponer del teléfono móvil
Plazo de devolución: 30 días no renovables
Máximo de libros en préstamo: 5
Lugar de devolución: buzón
Lugar para enviar sugerencias: buzón
La Biblioteca del Patio
Arte
Ensayo
Biografía e Historia
Novela
Poética y Teatro
Literatura en inglés
Infantil y Juvenil
Revistas culturales
Contacto, comentarios y sugerencias
labibliotecadelpatio@march.es