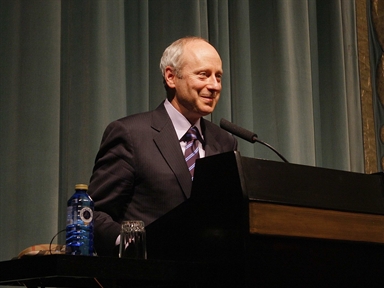 URL:
Date: 24/02/2011
Presenter:
The idea of justice is one of the central themes of moral philosophy, and by extension of political philosophy. How to be just or fair is also something which each person has to decide many times a day. Thus, the best manner of understanding the moral implications of the idea of justice involves exploring these everyday decisions and how present-day issues reflect very profound ideas. Using examples that range from homosexual marriage or immigration to euthanasia, biotechnology and the limits of the market, Michael Sandel assembles a critique of the three main schools of thought: the utilitarian; that linking justice to freedom (differentiating between what he terms laissez faire and more egalitarian partisans); and that which ties justice to virtue and the good life.

The publishing house Debate, which, this February, released the Spanish edition of Justice (Justicia), a book summing up the 12-episode tv series that, in turn, summarised his classes at Harvard in Autumn of 2005, presents Sandel's essay with a text from which the following passage has been taken: "What our obligations towards others in a free society? Should government collect taxes from the rich to help the poor? Is the free market fair? May telling the truth sometimes not be good? Is it possible that murder is occasionally morally necessary? Is it possible or desirable to legislate about moral questions? Do individual rights and the common good come into conflict?". Justice, the course Michael J. Sandel teaches, is one of the most popular and influential at the Harvard University. Over 1,000 students pack into the main hall to hear how Professor Sandel relates the major issues of public philosophy to current affairs, especially the most polemical. Justicia invites us to consider burning issues from new and illuminating perspectives, leaving aside our own ideology. Sandel exemplifies the challenge of deep thinking and demonstrates how a firmer understanding of philosophy can help us to better understand politics, morality and our own convictions.
Según lo previsto en la Ley 34/2002 de Servicios de la Sociedad de la Información y de Comercio Electrónico, en la Ley Orgánica 15/1999 del 13 de Diciembre, de Protección de Datos de Carácter Personal y en el Reglamento (UE) 2016/679 General de Protección de Datos, le informamos que sus datos personales figurarán en nuestros archivos automatizados. Sus datos no son ni serán en ningún caso suministrados a terceros. Puede en cualquier momento ejercitar su derecho de acceder, rectificar, de oposición al uso y, en su caso, cancelar sus datos personales comunicando al correo electrónico privacidad@march.es la operación a realizar. Más información sobre nuestra política de privacidad.