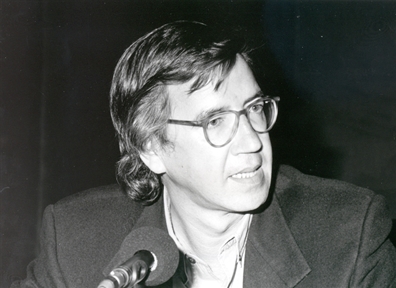 Lecture Series

Escritura transversal: literatura y pensamiento (IV)

Metaphor of the writer: the surgeon and the traveler
URL:
«Escritura transversal: literatura y pensamiento» fue el título de un ciclo de conferencias que impartió en la Fundación Juan March, del 10 al 27 del pasado abril, el escritor y catedrático de Estética de la Universidad Pompeu Fabra de Barcelona, Rafael Argullol. Con la expresión escritura transversal, que viene empleando desde hace más de diez años, Argullol trata de superar las tradicionales separaciones rígidas entre géneros, tanto desde el punto de vista formal como del fondo, y la dualidad entre el mundo de las ideas y el mundo de las sensaciones que ha venido marcando la tradición europea occidental.
Según lo previsto en la Ley 34/2002 de Servicios de la Sociedad de la Información y de Comercio Electrónico, en la Ley Orgánica 15/1999 del 13 de Diciembre, de Protección de Datos de Carácter Personal y en el Reglamento (UE) 2016/679 General de Protección de Datos, le informamos que sus datos personales figurarán en nuestros archivos automatizados. Sus datos no son ni serán en ningún caso suministrados a terceros. Puede en cualquier momento ejercitar su derecho de acceder, rectificar, de oposición al uso y, en su caso, cancelar sus datos personales comunicando al correo electrónico privacidad@march.es la operación a realizar. Más información sobre nuestra política de privacidad.