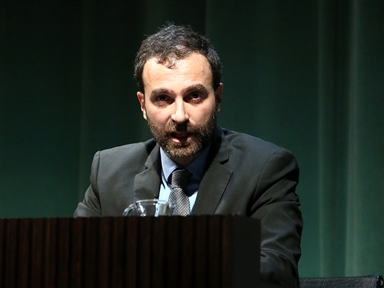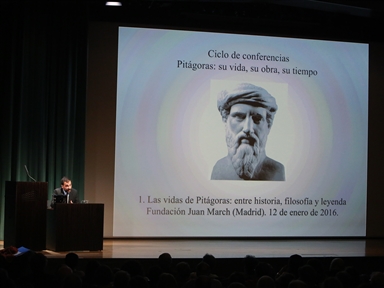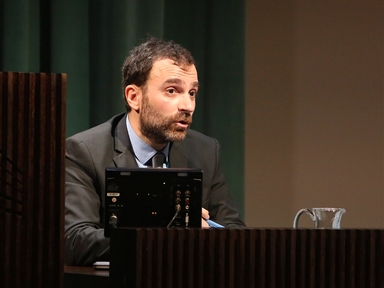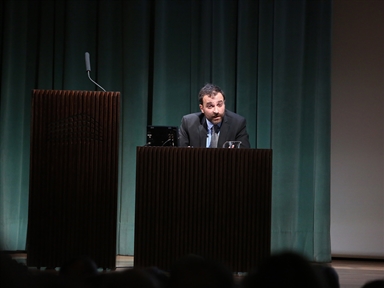 URL:
Date: 12/01/2016
Presenter:
Poco se sabe a ciencia cierta de la vida de uno de los filósofos más importantes del arcaísmo griego, aquel que, según Diógenes Laercio, fundó la rama itálica del pensamiento griego y dejó una huella indeleble en la tradición posterior. Esta conferencia trata de establecer la línea divisoria entre mito e historia en las diversas biografías antiguas de Pitágoras de Samos que se han transmitido.

Bibliografía recomendada:
Hernández de la Fuente, D., Vidas de Pitágoras, Atalanta: Girona, 2011.
Burket, W., Weisheit und Wissenschaft: Studien zu Pythagoras, Philolaos und Platon, Hans Carl: Núremberg, 1962 [trad. inglés: Lore and Science in Ancient Pythagoreanism, Harvard University Press: Cambridge, MA, 1972].
------, Griechische Religion der archaischen und klassischen Epoche, Kohlhammer: Stuttgart, 1977 [trad. español: Religión griega arcaica y clásica, Abada: Madrid, 2007].
------, Antike Mysterien, Funktionen und Gehalt, C.H. Beck: Múnich, 1987 [trad. español: Cultos mistéricos antiguos, Trotta: Madrid, 2005].
Kahn, C., Pythagoras and the Phytagoreans: A Brief History, Hackett Publishing Company: Indianapolis, 2001.
Riedweg, C., Pythagoras: Leben, Lehre, Nacwirkung. Eine Einführung, C.H. Beck: Múnich, 2002 [trad. inglés: Pythagoras: His Life, Teaching, and Influence, Cornell University Press: Nueva York, 2005].
Dodds, E.R., The Greeks and the Irrational, Berkeley, 1951 [trad. español: Los griegos y lo irracional, Revista de Occidente: Madrid, 1960; reimpr.: Alianza: Madrid, 2010].
Detienne, M., Les Maîtres de vérité dans la Grèce antique, Maspero: París, 1967 [trad. español: Los maestros de verdad en la Grecia arcaica, Sexto Piso: México D.F., 2004].
Según lo previsto en la Ley 34/2002 de Servicios de la Sociedad de la Información y de Comercio Electrónico, en la Ley Orgánica 15/1999 del 13 de Diciembre, de Protección de Datos de Carácter Personal y en el Reglamento (UE) 2016/679 General de Protección de Datos, le informamos que sus datos personales figurarán en nuestros archivos automatizados. Sus datos no son ni serán en ningún caso suministrados a terceros. Puede en cualquier momento ejercitar su derecho de acceder, rectificar, de oposición al uso y, en su caso, cancelar sus datos personales comunicando al correo electrónico privacidad@march.es la operación a realizar. Más información sobre nuestra política de privacidad.