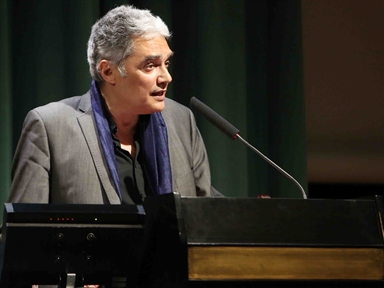 URL:
Date: 14/03/2017
Presenter:
The musicologist and Lecturer in Music History at the Universidad de Zaragoza Juan José Carreras, a specialist in eighteenth-century music, analyses the work of Johann Sebastian Bach (1685-1750), which has been continuously performed since his own time. Bach has been seen as an expressive emblem of Protestant theology, as well as a composer obsessed with the abstract forms of counterpoint, perceived as the essence of an age-old European musical science.
This series of two lectures presents a reflection on these two musical conceptions in the framework of an introduction to Bach's music and cultural context. These references are necessary in order to comprehend subsequent interpretations that culminate in the global and digital Bach of the twenty-first century.

The second session will feature live music by the pianist Luis Noain.
Según lo previsto en la Ley 34/2002 de Servicios de la Sociedad de la Información y de Comercio Electrónico, en la Ley Orgánica 15/1999 del 13 de Diciembre, de Protección de Datos de Carácter Personal y en el Reglamento (UE) 2016/679 General de Protección de Datos, le informamos que sus datos personales figurarán en nuestros archivos automatizados. Sus datos no son ni serán en ningún caso suministrados a terceros. Puede en cualquier momento ejercitar su derecho de acceder, rectificar, de oposición al uso y, en su caso, cancelar sus datos personales comunicando al correo electrónico privacidad@march.es la operación a realizar. Más información sobre nuestra política de privacidad.