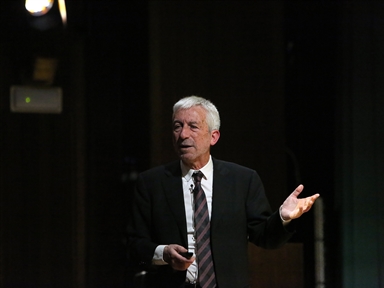 Presented by the architect, university professor, essayist and member of the Real Academia de Bellas Artes de San Fernando Luis Fernández-Galiano, this series takes us on a historical journey through the architecture of democracy.
The Peine del Viento (The Comb of the Wind) by Eduardo Chillida and Luis Peña Ganchegui evokes the turbulent years of the Spanish Transition to Democracy. The Museo Nacional de Arte Romano (National Museum of Roman Art) in Mérida, designed by Rafael Moneo between 1980 and 1986, is presented as an example of the recovery of history by post-modernity. The Ciutat de les Arts i les Ciències (City of Arts and Sciences) in Valencia, which Santiago Calatrava commenced in 1995 and remains incomplete, epitomises the boom and subsequent disrepute of iconic or emblematic architecture. The final lecture will focus on Matadero Madrid, a symbol of a period of regeneration and uncertainty.
Según lo previsto en la Ley 34/2002 de Servicios de la Sociedad de la Información y de Comercio Electrónico, en la Ley Orgánica 15/1999 del 13 de Diciembre, de Protección de Datos de Carácter Personal y en el Reglamento (UE) 2016/679 General de Protección de Datos, le informamos que sus datos personales figurarán en nuestros archivos automatizados. Sus datos no son ni serán en ningún caso suministrados a terceros. Puede en cualquier momento ejercitar su derecho de acceder, rectificar, de oposición al uso y, en su caso, cancelar sus datos personales comunicando al correo electrónico privacidad@march.es la operación a realizar. Más información sobre nuestra política de privacidad.