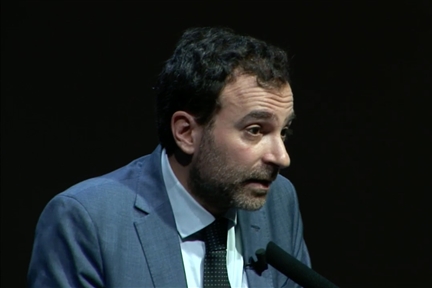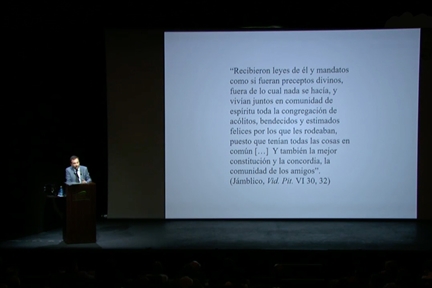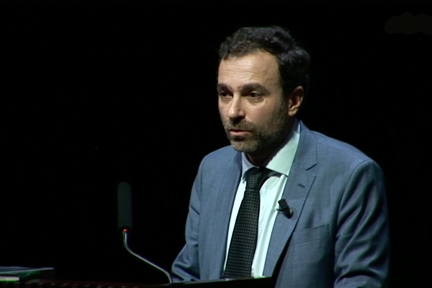 URL:
Date: 11/01/2018
Presenter:
La historia de las utopías y de los modos de vida alternativos en Occidente remonta por necesidad a la antigüedad griega, cuando se establecen, al margen de la sociedad general, grupos sapienciales, como el pitagórico, o cultos mistéricos que prometen un más allá feliz una vez cumplidos ciertos ritos comunitarios. Pero el ideal de la huida del mundo es una constante también, a partir de ahí, en las diversas escuelas filosóficas de la antigüedad, desde los llamados "presocráticos". Especialmente al hilo del debate sobre los modos de vida y sobre la "vida contemplativa" (bios theoretikós) se dejará sentir la cuestión a través de la escuela platónica, en su longue durée, hasta la posteridad.
Dawson, D., Cities of the Gods: Communist Utopias in Greek Thought, Oxford University Press: Oxford, 1992.
Hernández de la Fuente, D. (2011), Vidas de Pitágoras, Atalanta: Vilaür, 2014.
-----, "La noción de koinonia y los orígenes del pensamiento utópico", en Studia philologica valentina, n. 16 (Ejemplar dedicado a: De republica instituenda: Les utopies polítiques clàssiques en la construcció de la societat moderna), 2014, pp. 165-196.
Lisi, F. L. (ed.), Utopia, ancient and modern. Contributions to the history of a political dream, Academia Verlag: Sankt Augustin, 2012.
Trousson, R. (1975), Historia de la literatura utópica: Viajes a países inexistentes, Península: Barcelona, 1995.
Según lo previsto en la Ley 34/2002 de Servicios de la Sociedad de la Información y de Comercio Electrónico, en la Ley Orgánica 15/1999 del 13 de Diciembre, de Protección de Datos de Carácter Personal y en el Reglamento (UE) 2016/679 General de Protección de Datos, le informamos que sus datos personales figurarán en nuestros archivos automatizados. Sus datos no son ni serán en ningún caso suministrados a terceros. Puede en cualquier momento ejercitar su derecho de acceder, rectificar, de oposición al uso y, en su caso, cancelar sus datos personales comunicando al correo electrónico privacidad@march.es la operación a realizar. Más información sobre nuestra política de privacidad.