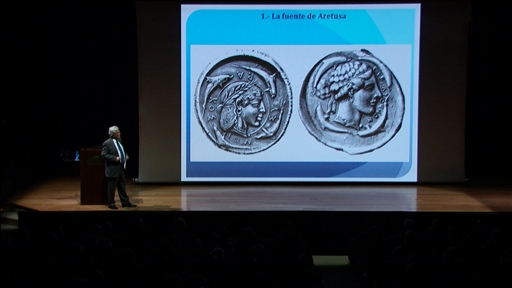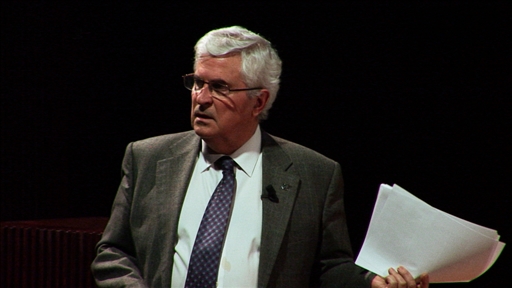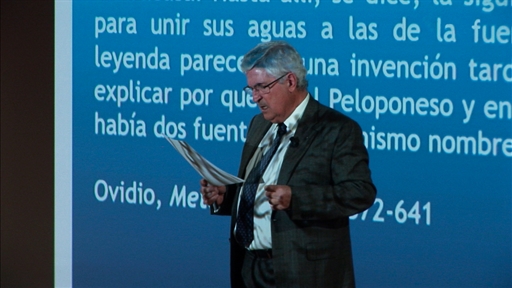 URL:
Date: 6/02/2018
Presenter:
Siracusa fue la ciudad más importante de Sicilia en la antigüedad; también fue una de las ciudades más importantes del Mediterráneo. Fundada por colonos de Corinto a mediados del s. VIII a. C., creció desde la isla de Ortigia, su primer emplazamiento, por la tierra firme cercana y fundó, a su vez, otras colonias.
Durante su periodo de máximo esplendor fue gobernada por varias dinastías de tiranos, con breves intervalos de gobiernos oligárquicos o democráticos. Son abundantes los episodios de gran interés histórico relacionados con Siracusa, como la expedición ateniense durante la Guerra del Peloponeso, la presencia en ella de Platón con la intención de instaurar allí su República, el largo conflicto con Cartago o su caída en el poder romano en el 212 a. C. Son numerosos los personajes relevantes relacionados con Siracusa, pero entre todos ellos destacan el sabio Arquímedes y el poeta Teócrito, iniciador de la poesía bucólica. Hoy es una gran ciudad que guarda en magníficos restos arqueológicos la memoria de su esplendor.
AA. VV., "Siracusa", en Bibliografia topografica della colonizzazione greca in Italia e nelle isole tirreniche, T. XIX, Scuola normale superiore/École française de Roma/Centre Jean Bérard: Pisa/Roma/Napoli, 2005, pp. 1-386.
Evans, R., Syracuse in Antiquity. History and Topography, University of South Africa Press: Pretoria, 2009.
-----, Ancient Syracuse: From Foundation to Fourth Century Collapse, Routledge: Londres/Nueva York, 2016.
Tito Livio, Historia de Roma desde su fundación, Gredos: Barcelona, 1995. (Libros XXIV: capítulos 21-39 y Libro XXV: capítulos 23-31)
Tucídides, Historia de la Guerra del Peloponeso, Francisco Romero Cruz (ed.), Cátedra: Madrid, 2005. (Libros VI-VII)
Loicq-Berger, M-P., Syracuse: histoire culturelle d'une cité grecque, Latomus: Bruselas, 1967.
Según lo previsto en la Ley 34/2002 de Servicios de la Sociedad de la Información y de Comercio Electrónico, en la Ley Orgánica 15/1999 del 13 de Diciembre, de Protección de Datos de Carácter Personal y en el Reglamento (UE) 2016/679 General de Protección de Datos, le informamos que sus datos personales figurarán en nuestros archivos automatizados. Sus datos no son ni serán en ningún caso suministrados a terceros. Puede en cualquier momento ejercitar su derecho de acceder, rectificar, de oposición al uso y, en su caso, cancelar sus datos personales comunicando al correo electrónico privacidad@march.es la operación a realizar. Más información sobre nuestra política de privacidad.