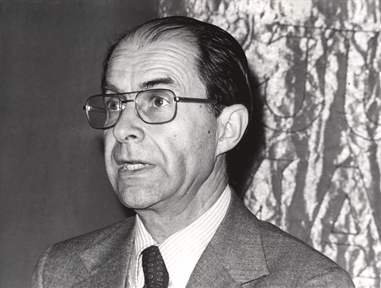 Lecture Series

Cuatro fases de la historia intelectual latinoamericana (III)

"From Martí to Rodó : the democratic idealism (1870-1910)"
URL:
«Para la mayor parte de los historiadores, los países de América Latina son una tierra muy fructífera para el estudio de la historia social o económica, pero no para la historia intelectual, por hallarse muy extendida la noción de ver la historia de América Latina como un monótono despliegue de violencias o trivialidades. A ello han contribuido también —aún sin quererlo— algunos escritores hispanoamericanos, al haber dado una imagen de sus propios países entre quevedesca y esperpéntica.» Con estas palabras el ensayista y profesor de la Universidad de Harvard Juan Marichal inició el curso que, con el tituio general de «Cuatro fases de la historia intelectual latinoamericana (1810-1970)», impartió en la Fundación durante la segunda quincena de enero. El curso del profesor Marichal estuvo integrado por cuatro lecciones en las que analizó las siguientes fases: «El designio constitucional: de Moreno a Bolívar (18101830)»; «De Echeverría a Sarmiento: el liberalismo romántico (1837-1868)»; «De Marti a Rodó: el idealismo democrático (1870-1910)»; y «De Martínez Estrada a Octavio Paz: el balance de una historia (1930-1970)».
Según lo previsto en la Ley 34/2002 de Servicios de la Sociedad de la Información y de Comercio Electrónico, en la Ley Orgánica 15/1999 del 13 de Diciembre, de Protección de Datos de Carácter Personal y en el Reglamento (UE) 2016/679 General de Protección de Datos, le informamos que sus datos personales figurarán en nuestros archivos automatizados. Sus datos no son ni serán en ningún caso suministrados a terceros. Puede en cualquier momento ejercitar su derecho de acceder, rectificar, de oposición al uso y, en su caso, cancelar sus datos personales comunicando al correo electrónico privacidad@march.es la operación a realizar. Más información sobre nuestra política de privacidad.