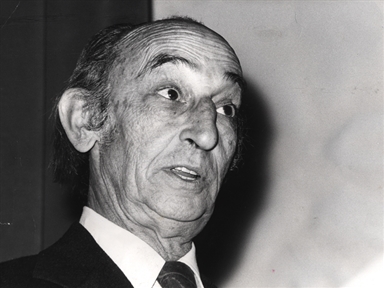 Lecture Series

Arte y cultura en Iberoamerica (II)

"The baroque expression in the European and Creole media"
URL:
«Si en el terreno socio-político Latinoamérica está pasando por un mal paso, en lo artístico y cultural, en cambio, sigue teniendo mucho que decir con respecto a su capacidad creadora. Hay una perfecta continuidad en la expresión artística de Latinoamérica, que es tanto más americana cuanto más enraizada está en el mundo precolombino. Frente a lo que suele afirmarse, España contribuyó con su parte alícuota a la creación de una sociedad y cultura nuevas, diferentes de las originales por su variedad de ingredientes negro, indio, mestizo, español y europeo no ibérico.» Esta es la tesis central sostenida por el profesor de la Universidad del Estado de Nueva York, don Leopoldo Castedo, a lo largo del curso que sobre «Arte y Cultura en Iberoamérica» ha impartido el pasado febrero en la Fundación Juan March. El profesor Castedo ha tratado en las cuatro lecciones que han integrado el curso los siguientes temas: las expresiones prehispánicas; la expresión barroca en los medios europeos y criollos; la expresión barroca en los ambientes mulatos y mestizos; y las expresiones contemporáneas. Todas las conferencias han sido acompañadas de la proyección de diapositivas realizadas por el propio señor Castedo.
Según lo previsto en la Ley 34/2002 de Servicios de la Sociedad de la Información y de Comercio Electrónico, en la Ley Orgánica 15/1999 del 13 de Diciembre, de Protección de Datos de Carácter Personal y en el Reglamento (UE) 2016/679 General de Protección de Datos, le informamos que sus datos personales figurarán en nuestros archivos automatizados. Sus datos no son ni serán en ningún caso suministrados a terceros. Puede en cualquier momento ejercitar su derecho de acceder, rectificar, de oposición al uso y, en su caso, cancelar sus datos personales comunicando al correo electrónico privacidad@march.es la operación a realizar. Más información sobre nuestra política de privacidad.