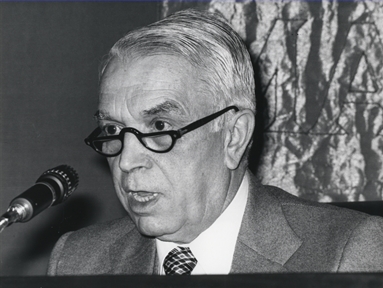 Lecture Series

El estado de nuestro tiempo (II)

"Growth in demands and means of action"
URL:
«Las decisiones estatales están condicionadas por el sector político dentro y fuera del Gobierno, por el económico-social y por el administrativo, a través de unos nudos de intersección más o menos complejos, y unidos por el común objetivo de influir en las decisiones. Estos sectores constituyen básicamente los tres grandes poderes del Estado de nuestro tiempo», dijo el profesor y jurista Manuel García Pelayo en el curso que, sobre el tema general El Estado de nuestro tiempo, impartió del 4 al 13 de abril en la Fundación Juan March. En cuatro conferencias, el profesor García Pelayo abordó los siguientes temas: «Consideraciones generales sobre el sistema estatal»; «Crecimiento de demandas y de los medios de acción»; «Legitimidad y racionalidad»; y «La situación histórica del Estado».
Según lo previsto en la Ley 34/2002 de Servicios de la Sociedad de la Información y de Comercio Electrónico, en la Ley Orgánica 15/1999 del 13 de Diciembre, de Protección de Datos de Carácter Personal y en el Reglamento (UE) 2016/679 General de Protección de Datos, le informamos que sus datos personales figurarán en nuestros archivos automatizados. Sus datos no son ni serán en ningún caso suministrados a terceros. Puede en cualquier momento ejercitar su derecho de acceder, rectificar, de oposición al uso y, en su caso, cancelar sus datos personales comunicando al correo electrónico privacidad@march.es la operación a realizar. Más información sobre nuestra política de privacidad.