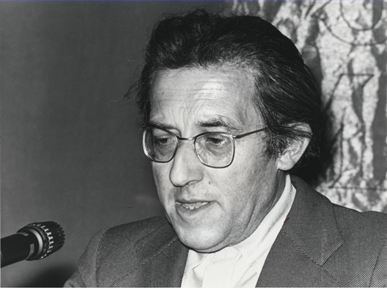 Lecture Series

Cuatro lecciones sobre filosofía de la ciencia (II)

"General exposition of the 'categorical closure theory'"
URL:
«El concepto de ciencia y de científico está tan cargado ideológicamente que, por lo general, las autoconcepciones de los científicos no suelen estar a la altura de lo que son las propias ciencias. Con la aparición del concepto de ciencias humanas, el significado de ciencia se ha hecho muy problemático y conviene determinar cuál es el mecanismo que hace que una ciencia sea tal y se diferencie de otras formaciones que lo son menos o no lo son en absoluto». Analizar éstas y otras cuestiones a la luz de la «teoría del cierre categorial» ha sido el propósito del curso impartido el pasado mes de mayo por el profesor Gustavo Bueno en la Fundación. En cuatro lecciones sobre «Filosofía de la Ciencia», Gustavo Bueno expuso algunas de las conclusiones del trabajo que sobre «El estatuto gnoseológico de las ciencias humanas» realizó al frente de un equipo de profesores e investigadores de la Universidad de Oviedo, dentro de un Programa de Investigación de la Fundación Juan March, iniciado en 1974. Los temas que han integrado el curso del profesor Bueno han sido los siguientes: «Algunas consideraciones actuales de la ciencia: presentación crítica»; «Exposición general de la teoría del 'cierre categorial'»; «La estructura y la historia de las ciencias desde la perspectiva del 'cierre categorial'»; y «Una definición gnoseológica de las 'ciencias humanas'».
Según lo previsto en la Ley 34/2002 de Servicios de la Sociedad de la Información y de Comercio Electrónico, en la Ley Orgánica 15/1999 del 13 de Diciembre, de Protección de Datos de Carácter Personal y en el Reglamento (UE) 2016/679 General de Protección de Datos, le informamos que sus datos personales figurarán en nuestros archivos automatizados. Sus datos no son ni serán en ningún caso suministrados a terceros. Puede en cualquier momento ejercitar su derecho de acceder, rectificar, de oposición al uso y, en su caso, cancelar sus datos personales comunicando al correo electrónico privacidad@march.es la operación a realizar. Más información sobre nuestra política de privacidad.