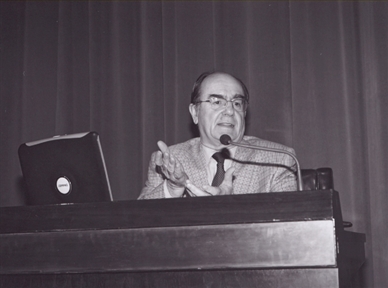 Open Classroom

Temas clásicos de Arqueología (I)

"Heroes and Lords in the Bronze Age"
URL:
Date: 11/03/2003
Presenter:
Del 11 de marzo al 3 de abril pasados, en ocho sesiones, se celebró en la Fundación Juan March un «Aula abierta», dedicada a «Temas clásicos de Arqueología», dirigida por José María Luzón, catedrático de Arqueología de la Universidad Complutense de Madrid, y en la que participaron María del Carmen Pérez Die, conservadora Jefe del Departamento de Egipto y Próximo Oriente del Museo Arqueológico Nacional, y Pilar León Alonso, catedrática de Arqueología en la Universidad Pablo Olavide de Sevilla y directora de las excavaciones en el Traianeum de Itálica, quienes pronunciaron sendas conferencias públicas. En este ciclo se seleccionaron diez temas para poder ilustrar la forma en que los descubrimientos arqueológicos se incorporan a nuestro conocimiento de la Historia y de la Antigüedad.
Según lo previsto en la Ley 34/2002 de Servicios de la Sociedad de la Información y de Comercio Electrónico, en la Ley Orgánica 15/1999 del 13 de Diciembre, de Protección de Datos de Carácter Personal y en el Reglamento (UE) 2016/679 General de Protección de Datos, le informamos que sus datos personales figurarán en nuestros archivos automatizados. Sus datos no son ni serán en ningún caso suministrados a terceros. Puede en cualquier momento ejercitar su derecho de acceder, rectificar, de oposición al uso y, en su caso, cancelar sus datos personales comunicando al correo electrónico privacidad@march.es la operación a realizar. Más información sobre nuestra política de privacidad.