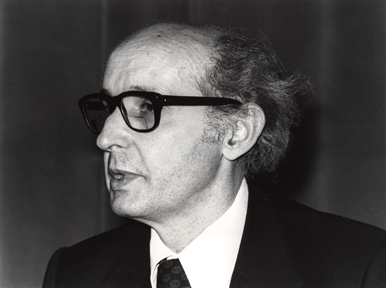 Lecture Series

Dos lecciones sobre la vejez (II)

"Social and molecular aspects of aging"
URL:
"«En nuestra sociedad el envejecimiento es considerado como una enfermedad que se trata de olvidar y marginar, y se ignora la creciente importancia que con los años irán tomando en la sociedad las personas de edad avanzada: hoy se calcula que un 17 por 100 de la población, en la sociedad americana, tiene más de 65 años, y puede pensarse que en los primeros años del segundo milenio, uno de cada cinco americanos tendrá esa misma edad o más», dijo el investigador y científico Santiago Grisolía en dos conferencias pronunciadas el 13 y 15 de marzo en la Fundación Juan March sobre el tema «Dos lecciones sobre la vejez». El doctor Grisolía, que dirige actualmente el Instituto de Investigaciones Citológicas de Valencia, ha tratado el tema en sus aspectos sociales y moleculares.
Presentó al conferenciante el doctor David Vázquez Martínez, Director del Instituto de Bioquímica de Macromoléculas del Centro de Investigaciones Biológicas del Consejo Superior de Investigaciones Científicas y Ex-secretario del Departamento de Biología de la Fundación Juan March, quien subrayó la relevante personalidad científica y humana del doctor Grisolía."
Según lo previsto en la Ley 34/2002 de Servicios de la Sociedad de la Información y de Comercio Electrónico, en la Ley Orgánica 15/1999 del 13 de Diciembre, de Protección de Datos de Carácter Personal y en el Reglamento (UE) 2016/679 General de Protección de Datos, le informamos que sus datos personales figurarán en nuestros archivos automatizados. Sus datos no son ni serán en ningún caso suministrados a terceros. Puede en cualquier momento ejercitar su derecho de acceder, rectificar, de oposición al uso y, en su caso, cancelar sus datos personales comunicando al correo electrónico privacidad@march.es la operación a realizar. Más información sobre nuestra política de privacidad.