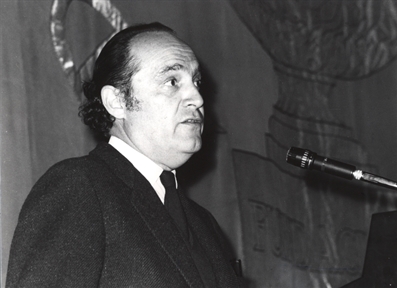 Lecture Series

Introducción a la literatura comparada (IV)

"A classic and contemporary example: the exiled writer"
URL:
«Por Literatura Comparada debemos entender un esfuerzo por superar el nacionalismo cultural, un intento de desentrañar las propiedades de la creación artística, las causas de las metamorfosis de ciertas imágenes y formas, el funcionamiento, en general, de la imaginación poética», señaló el profesor de Literaturas Comparadas de la Universidad de Harvard, Claudio Guillén, en el curso que sobre el tema «Introducción a la Literatura Comparada», impartió en la Fundación del 15 al 24 del pasado enero. A lo largo del mismo el profesor Guillén trazó un esbozo histórico de los estudios comparatistas y se centró en los géneros literarios que, en su opinión constituyen el tema clave de esta disciplina en nuestros días.
Según lo previsto en la Ley 34/2002 de Servicios de la Sociedad de la Información y de Comercio Electrónico, en la Ley Orgánica 15/1999 del 13 de Diciembre, de Protección de Datos de Carácter Personal y en el Reglamento (UE) 2016/679 General de Protección de Datos, le informamos que sus datos personales figurarán en nuestros archivos automatizados. Sus datos no son ni serán en ningún caso suministrados a terceros. Puede en cualquier momento ejercitar su derecho de acceder, rectificar, de oposición al uso y, en su caso, cancelar sus datos personales comunicando al correo electrónico privacidad@march.es la operación a realizar. Más información sobre nuestra política de privacidad.