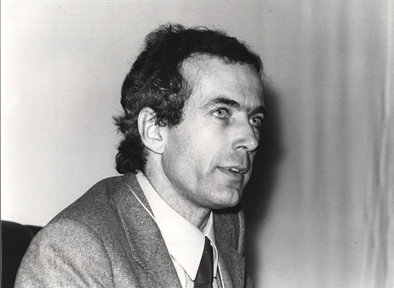 Inaugural lectures

Inauguración de la Exposición "JULIO GONZÁLEZ". Julio González, the line in the space
URL:
Date: 21/01/1980
Presenter:
Hasta fines de marzo permanecerá abierta en la sede de la Fundación Juan March la Exposición de 111 obras de Julio González que se exhibe en esta institución desde el pasado 11 de enero. La muestra ofrece 66 esculturas y 45 dibujos realizados por el artista catalán de 1910 a 1941, año de su muerte. Las obras proceden de los Museos de Arte Contemporáneo de Madrid, Arte Moderno de Barcelona, Museo Nacional de Arte Moderno (Centro Pompidou), Galerie de France, de París, Fundación Maeght, de Saint-Paul-de-Vence (Francia), Galería Theo y de coleccionistas privados, con cuya colaboración se ha realizado la exposición. Tras su presencia en Madrid, donde ha sido visitada por 20.000 personas durante el primer mes de exhibición, la Exposición de Julio González será ofrecida en Barcelona. En el acto inaugural de la exposición, el director gerente de la Fundación Juan March señaló que esta muestra de la obra de González se inscribe en el propósito de la Fundación de «presentar al gran público muestras de la obra de grandes creadores e innovadores del arte contemporáneo que por diferentes motivos no han sido suficientemente divulgados en España». Seguidamente el Conservador del Museo Nacional de Arte Moderno (Centro Pompidou) de Paris Germain Vialte, quien es también autor del estudio reproducido en el catálogo de la exposiclóil, pronunció una conferencia sobre «Julio González, la línea en el espacio»
Según lo previsto en la Ley 34/2002 de Servicios de la Sociedad de la Información y de Comercio Electrónico, en la Ley Orgánica 15/1999 del 13 de Diciembre, de Protección de Datos de Carácter Personal y en el Reglamento (UE) 2016/679 General de Protección de Datos, le informamos que sus datos personales figurarán en nuestros archivos automatizados. Sus datos no son ni serán en ningún caso suministrados a terceros. Puede en cualquier momento ejercitar su derecho de acceder, rectificar, de oposición al uso y, en su caso, cancelar sus datos personales comunicando al correo electrónico privacidad@march.es la operación a realizar. Más información sobre nuestra política de privacidad.